[SPAM] The Originator Of The God Of Plague
The morphed image of Karl Marx Statue is shared on social media with false claims
Post Information:
The below post has been circulating on social media
The Originator Of The God Of Plague

https://twitter.com/ark999/status/1466236919264657414?ref_src=twsrc%5Etfw%7Ctwcamp%5Etweetembed%7Ctwterm%5E1466236919264657414%7Ctwgr%5E%7Ctwcon%5Es1_&ref_url=https%3A%2F%2Fpublish.twitter.com%2F%3Fquery%3Dhttps3A2F2Ftwitter.com2Fark9992Fstatus2F1466236919264657414widget%3DTweet
Verification: The image of Karl Marx statue is doctored 
A post is viral with claims in the Chinese language "马克思诞生地:德国特里尔!
马克思诞辰二百周年时,中国送出马克思铜像。
德国市民为中国制造的马克思铜像戴上"冠狀病毒"王冠,披上病毒红旗,以示瘟神鼻祖之意"。that translates  "The birthplace of Marx: Trier, Germany! On the 200th anniversary of Marx's birth, China sent a bronze statue of Marx. German citizens put the crown of "coronavirus" on the bronze statue of Marx made in China, and put on the red flag of the virus, to show the meaning of the originator of the god of plague."
In fact, a morphed image is being shared with false claims. The original image can be seen  @ AP Images and  AFP Images.
There is no such crown on the head of the statue and there is no yellow color Coronavirus pattern on the Cloak. A bronze statue showing German philosopher Karl Marx is unveiled on the occasion of the 200th birthday of Marx in Trier, Germany, Saturday, May 5, 2018. The statue was created by Chinese artist Wu Weishan and is a present of China.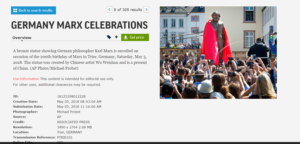 We ensure that you are updated with the facts. Please Check4spam before you believe and forward any doubtful image, message, or video. Be cautious, be safe.
---
Find all fact-checking articles about news using Nokiye.com
The Originator Of The God Of Plague I Nokiye
---
Post Date: 14 Dec 2021
Post ID: #79520