[SPAM] Finally Virat Kohli Revealed The Face Of His Daughter Vamika
The photo of a person by the name of Sushant Lahiri and his niece is shared on social media with claims " Finally Virat Kohli revealed the face of his daughter Vamika"
Post Information:
The below post has been circulating on social media
Finally Virat Kohli Revealed The Face Of His Daughter Vamika

https://twitter.com/Er_jasbharti/status/1466653685497298947?ref_src=twsrc%5Etfw%7Ctwcamp%5Etweetembed%7Ctwterm%5E1466653685497298947%7Ctwgr%5E%7Ctwcon%5Es1_&ref_url=https%3A%2F%2Fpublish.twitter.com%2F%3Fquery%3Dhttps3A2F2Ftwitter.com2FEr_jasbharti2Fstatus2F1466653685497298947widget%3DTweet
Verification: The man and the baby in the viral photo is not Virat Kohli and his daughter 
The photo of a person by the name of Sushant Lahiri and his niece is shared on social media with claims " Finally Virat Kohli revealed the face of his daughter Vamika". The person in the viral photo is Virat Kohli lookalike, Sushobhan Lahiri.
The viral photos can be seen here and here on the Facebook account of Sushobhan Lahiri who looks like Cricketer Virat Kohli. The baby in the photo is the niece of Sushobhan Lahiri. Check the screenshot shared below, from the FB profile of Sushobhan Lahiri: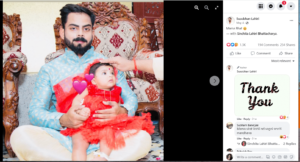 Read more @Boomlive
We ensure that you are updated with the facts. Please Check4spam before you believe and forward any doubtful image, message, or video. Be cautious, be safe.
---
Find all fact-checking articles about news using Nokiye.com
Finally, Virat Kohli Revealed The Face Of His Daughter Vamika I Nokiye
---
Post Date:  09 Dec 2021
Post ID: #79511