[SPAM] Mahatma Gandhi With Girlfriend

This is a fake post with false claim on a photo shopped image of Mahatma Gandhi and Nehru. Please read more about it in the verification section of this article.
Post Information:
Below post has been circulating on social media.

Verification: Photo shopped image is shared on social media
The image is used to mislead people around Gandhi Jayanti that falls on 2nd of October. Please have a look at the links shared below to know more about the fake viral image.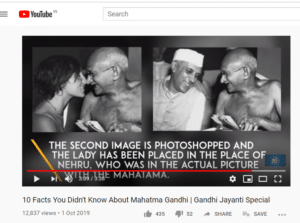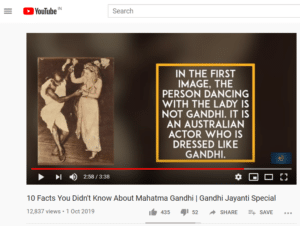 The photograph is being taken from the shared link. You can see the white sleeves visible in photo shopped image and Gandhi ji is in exactly the same posture as in photo with Nehru. The back ground if watched carefully is also the clue that the image is fake. The side where lady is placed is a shade darker and has a thin line separating two images. Also note the book in Gandhi i"s hand. Its the same book in real image.
Watch the real photo of India Gandhi Nehru that is being photo shopped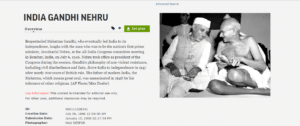 Bespectacled Mahatma Gandhi, who eventually led India to its independence, laughs with the man who was to be the nation's first prime minister, Jawaharlal Nehru, at the All-India Congress committee meeting in Bombay, India, on July 6, 1946. Nehru took office as president of the Congress during the session. Gandhi's philosophy of non-violent resistance, including civil disobedience and fasts, drove India to independence in 1947 after nearly 200 years of British rule. The father of modern India, the Mahatma, which means great soul, was assassinated in 1948 for his tolerance of other religions. (AP Photo/Max Desfor)

Use Information This content is intended for editorial use only.
For other uses, additional clearances may be required.

ID:
060111028241
Creation Date:
July 06, 1946 12:00:00 AM
Submission Date:
January 15, 2008 02:17:58 PM
Photographer:
MAX DESFOR
Source:
AP
Credit:
ASSOCIATED PRESS
Special Instructions:
PERUSEIN **ONEG IN LOCKED CAGE**
Resolution:
5100 x 3896 10.91 MB
Person:
MOHANDAS GANDHI, MAHATMA GANDHI, JAWAHARLAL NEHRU
Subject:
Government and politics
Keywords:
xprintstorexiconicpeople
Location:
BOMBAY, INDIA
Transmission Reference:
APHS027338
Byline Title:
STF
Caption Writer:
XCJ PDS JAM PC SAV
Usage Notes:
This content is intended for editorial use only. For other uses, additional clearances may be required.
  Real Image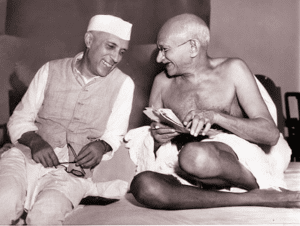 ---
We ensure that you are updated with the facts. Please Check4spam before forwarding and believing any doubtful image, message or video. Be cautious, be safe.
---
Find all fact checking articles about news using Nokiye.com
Gandhi With Girlfriend  I Nokiye
---
Post Date: 4 Oct 2019
Post ID: #73931