[SPAM] Indra, Yunus Khan (Father-In-law Of Indra)& Firoz Khan (Indira's Husband)
An old image of former prime minister Indira Gandhi with Jawaharlal Nehru and two other men is going viral on social media with the claim that it shows her father-in-law, Yunus Khan, and husband 'Feroz Khan
Post Information:
The below post has been circulating on social media
Nehru, Indra, Yunus Khan (father-in-law of Indra)& Firoz Khan (Indira' s Husband).
Save it. It's a rare photos of mixture khandan later turned to Christian

70 saal se ye fake gandhi public ka chutya banatey aa re ha!
Verification: Men in the image with Indira Gandhi are not her husband and father-in-law
An old image of former prime minister Indira Gandhi with Jawaharlal Nehru and two other men is going viral on social media with the claim that it shows her husband 'Feroze Khan' and father-in-law, Yunus Khan.
The image was shared on the Check4Spam Whatsaap number for verification. The image is in circulation for a long with misleading claims.
In fact, the people in the photo are Jawahar Lal Nehru, Russian painter Nicholas Roerich and Indian diplomat, Yunus Khan. Their relationships with Gandhi have been misidentified. When you look for Mohammad Yunus Khan on google, you will find the information as well as the same viral image with the names of people with Indira Gandhi (Jawaharlal Nehru, Indira Gandhi, Nicholas Roerich, and Mohammad Yunus Khan)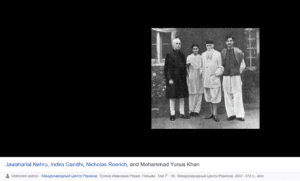 The same image can also be seen here with the caption "Roerich_12_Javaharlal Nehru, Indira Gandhi, Nicholas Roerich. Kullu. May 1942"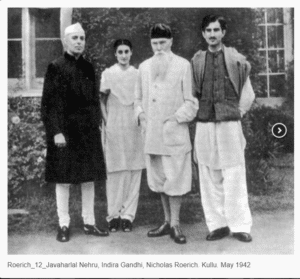 We ensure that you are updated with the facts. Please Check4spam before you believe and forward any doubtful image, message, or video. Be cautious, be safe.
---
Find all fact-checking articles about news using Nokiye.com
Indra, Yunus Khan (Father-In-law Of Indra)& Firoz Khan (Indira's Husband) I Nokiye
---
Post Date: 30 May 2021
Post ID: #78733