[SPAM] Unbelievable But This Is A Photo From Gujarat
The fake post is shared with claims that the image of halted Bullet trains shown in the viral post is from Gujarat
Post Information:
The below post has been circulating on social media
    Unbelievable But This Is A Photo From Gujarat
Verification: The image of halted trains is from China's Wuhan
An image of halted bullet trains is being widely shared on social media with a claim that it shows bullet trains in Gujarat. The caption to the image is " Unbelievable but this is a photo from Gujarat."
The image shows bullet trains halted at China's Wuhan. According to New China TV, the Wuhan bullet train maintenance center is the largest of its kind in central China. It covers an area of 1.4 million square meters. More than 100 bullet trains can be parked here at the same time. Check the links shared below to know the facts:
The image can be seen here. Check the youtube video shared by New China TV that shows the same image as shared in the viral post. The video is shared with the description "Stunning aerial view of bullet train maintenance center in Wuhan, China." Check the screenshot shared below from the video.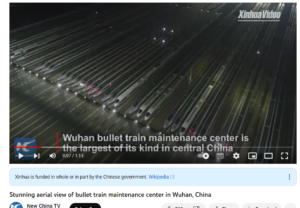 The status of India's first bullet train project between Mumbai and Ahmedabad is shared by the Ministry of Railways on 16 August 2022. According to NDTV, Railway Minister Ashwini Vaishnav said that the first phase of this project is likely to be operational by 2026. Read more about it here.
Bullet train Progress Report :

Land Acquisition Status-
1) Gujarat: 98.8%
2) DNH: 100%
3) Maharashtra: 75.25%

Progress of Works-
1) 162 km of Piling work completed
2) 79.2 km Pier work completed
3) Passenger Terminal Hub at Sabarmati is nearing completion. pic.twitter.com/4Ezh3lRkHy

— Ministry of Railways (@RailMinIndia) August 16, 2022
We ensure that you are updated with the facts. Please Check4spam before you believe and forward any doubtful image, message, or video. Be cautious, and be safe.
---
Find all fact-checking articles about news using Nokiye.com
Unbelievable But This Is A Photo From Gujarat I Nokiye
---
Post Date: 14 Dec 2022
Post ID: #80893