[SPAM] Navy SEALs Have Raided A Cargo Ship Full Of Smuggled Children
An article from the Satire website is shared as real on social media
Post Information:
The below post has been circulating on social media
Navy SEALs Have Raided A Cargo Ship Full Of Smuggled Children
Verification: Article from Satire website is shared as real
The post is shared on social media with claims "200 children were rescued chained inside a container on a ship by our navy seals off the coast of California. 12 dead."  "Navy seals raided a Hong Kong vessel off long beach California on the advice of someone from Mar E Largo and rescued 200 children". The post can be seen on various social media here, here.  In fact, the article was shared on the Satire website Real Raw News and it's just for entertainment. The website has a Disclaimer "Information on this website is for informational and educational and entertainment purposes. This website contains humor, parody, and satire. We have included this disclaimer for our protection, on the advice of legal counsel." Check the screenshot of the article on the satire website: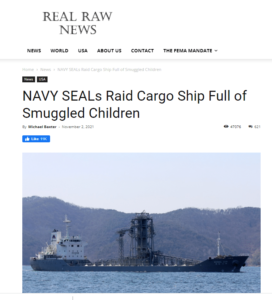 The claim was also debunked by USA Today. "There's nothing to that story," Andrew DeGarmo, a public affairs officer for the Navy, told USA TODAY. "It's false."
We ensure that you are updated with the facts. Please Check4spam before you believe and forward any doubtful image, message, or video. Be cautious, be safe.
---
Find all fact-checking articles about news using Nokiye.com
Navy SEALs Have Raided A Cargo Ship Full Of Smuggled Children I Nokiye
---
Post Date: 23 Nov 2021
Post ID: #79449