[SPAM] Saudi Man Accidentally Buys 2 Airbus A350's For Sons Birthday

This is a fake post circulating about a Saudi man buying Jet for son. The post was shared on a Satire website. Please read more about it in the verification section of this article.
Below post has been circulating on social media.
https://twitter.com/camohanbn/status/1166259424714903552
Believe it or not!
Saudi man accidentally buys 2 Airbus A350's for sons b'dy
Called Airbus for the model planes; but communication was difficult due to english
Euro 329mn: He thought it was a bit expensive but still reasonable!
Kept 1 one of the planes & gifted 2nd to his cousin! pic.twitter.com/qXoBaOGvsR

— Abhishek Kothari 🇮🇳 (@kothariabhishek) August 26, 2019
Verification:No, Saudi man did not accidentally buy two Airbus jets
                                                          The published article was just for gag
The gag chunk was actually shared on a satirical website called Thin Air Today. The website is known for sharing satirical stories around current happenings in the aviation sector.  Few website are created to share humor and satire. Some people take it seriously and share the article as real. They are not at all real. Just for gags. We have shared screenshots from the website and Facebook account of Thin Air Today, that show the disclaimer that all contents are satirical. Please go through all the links shared to know more about the viral post.
The latest share on satire website was:
Saudi man accidentally buys 2 Airbus A350's for sons birthday. Read more@ Thin Air Today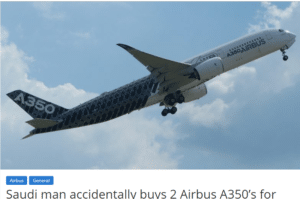 A man in Saudi Arabia accidentally bought 2 Airbus A350-1000's while searching for scale models of that type. The man, an investor in the energy sector, was searching for a birthday gift for his son who is a big fan of aviation.

The man says he called Airbus for the model planes but his lack of english made communication difficult. "They asked so many questions about interior and exterior, I just though they make very accurate scale models". The price tag of roughly € 329 million did not seem to bother the man. "I got lost in currency conversions, I thought it was a bit expensive but still reasonable". The man payed with his American Express and a few months later, Airbus called to tell the planes are ready for delivery. "They asked me who will fly it, I thought it was a joke"

The Saudi man decided to keep one of the planes and gifted the other one to his cousin.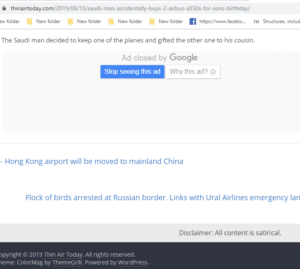 Check another satirical post from the same website:
Qantas and other major airlines will soon be flying upside down to Australia: Read more @The Thin Air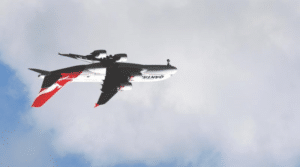 The Thin Air Facebook account : Read more

Point to give a serious thought is : "is this possible?"
It's not so easy to buy Aircraft. Please check the rates in the link shared.
Airbus-Commercial-Aircraft-list-prices-2018: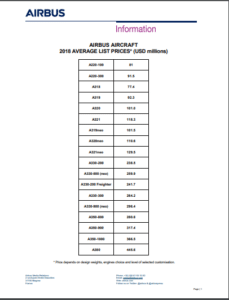 Check the list of Satire websites for further information. Always check at the end of the page to know more about the site: Read more
We ensure that you are updated with the facts. Please Check4spam before forwarding and believing any doubtful image, message or video. Be cautious, be safe.
---
Find all fact checking articles about news using Nokiye.com
Saudi Man Accidentally Buys 2 Airbus A350's For Sons Birthday I Nokiye
---
Post Date: 28 Aug 2019
Post ID: #73577