[SPAM] MOTHER GIVES BIRTH TO 17 BABIES AT ONCE!

This is a fake post circulating. It is a fictional article written by the Satire website "World News Daily Report". Please read more about it in the verification section of this article.
Post Information:
Below post has been circulating on social media.
WORLD RECORD….

Catherine Bridge holds the World Record for the most babies in a lone pregnancy by giving birth to 17 babies.

Catherine Bridge gave birth to 17 beautiful and identical boys.

Catherine and her husband
choose the names for the boys with an obvious continuity of thought: James, Jacob, Jarod, Jarvis, Jason, Jeffrey, Jeremy, Jerome, Jesse, Jimmy, Joachim, Jonathan, Jonas, Joseph, Julian, Jimbo and surprisingly, Darth.

What will you do if such blessing of 17 boys comes your way?
Verification: The article was published on satire website "World News Daily Report"
This query came to us on whatsapp by Priya Pathak from Houston.
It was a fictional article written by the World News Daily Report 
World News Daily Report is a satire website. You can read these lines " World News Daily Report assumes all responsibility for the satirical nature of its articles and for the fictional nature of their content. All characters appearing in the articles in this website – even those based on real people – are entirely fictional and any resemblance between them and any person, living, dead or undead, is purely a miracle" at the end of this site.
Images shared in viral post are not related to the claim.
Please check the fact of the the following image in the links shared below: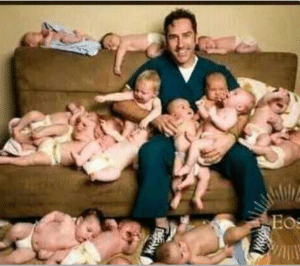 On search we found the image at the following links:
The video below was published on 9 Jan 2013:
Many Kids: HUMAR : Read more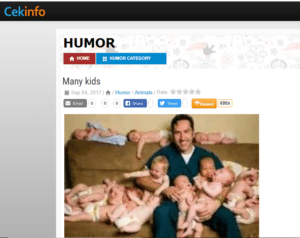 Another image viral is as follows. Please check the shared link to know the fact about the image.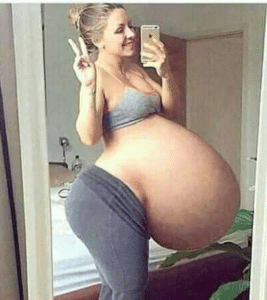 Belly Morphs: Read more
Did This American Woman Give Birth to 17 Babies at Once? Published on January 24, 2016 ; Read more @ Women Daily Magazine
We ensure that you are updated with the facts. Please Check4spam before forwarding and believing any doubtful image, message or video. Be cautious, be safe.
---
Find all fact checking articles about news using Nokiye.com
Mother Gives Birth To 17 Babies | Nokiye
---
Post Date: 5 June 2019
Post ID: #72661