[SPAM] The Sun Chants Om (NASA)
A post on social media claimed that NASA had recorded the sound of the Sun, and the Sun chants Om
Post Information:
The below post has been circulating on social media
The Sun Chants Om (NASA)

SOUND OF THE SUN!

NASA found that the sound from the sun resembles the Vedic mantra 'Om'. It is the most sacred mantra of Brahman, the highest Universal Principle, the Ultimate Reality. Om connotes the metaphysical concept of Brahman. pic.twitter.com/RWphewygl5

— अचिन्त्य (@The_Pinakee) June 28, 2021

https://twitter.com/thekiranbedi/status/1213289349942370304?ref_src=twsrc%5Etfw%7Ctwcamp%5Etweetembed%7Ctwterm%5E1213289349942370304%7Ctwgr%5E%7Ctwcon%5Es1_&ref_url=https%3A%2F%2Fd-736070447555713594.ampproject.net%2F2111060251009%2Fframe.html
Verification: The Sun does not chant Om
A video was shared on Facebook and Twitter and YouTube claiming that NASA had recorded the sound of the sun, and the sun chants Om. It's not true. Check the link shared below to know the fact:
A video from NASA recreated sounds from solar electromagnetic waves, and it was not 'Om'.
Video released by NASA in 2018 shows the sonification of electromagnetic waves from the sun is not, in fact, an "Om" chant but a "low, pulsing hum." Check the video shared below. The raw audio file released by NASA clears about the myth.
The Sun is not silent. The low, pulsing hum of our star's heartbeat allows scientists to peer inside, revealing huge rivers of solar material flowing, along with waves, loops and eruptions. This helps scientists study what can't be seen. Listen in: https://t.co/J4ZC3hUwtL pic.twitter.com/lw30NIEob2

— NASA (@NASA) July 25, 2018
A Twitter user AzyConTroll replied to a tweet by Kiran Bedi in a funny way. It says "Modi Ji Wah" Check it below: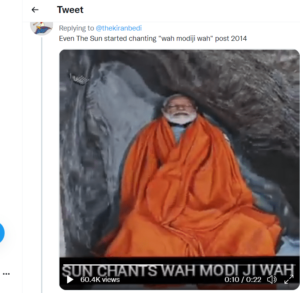 We ensure that you are updated with the facts. Please Check4spam before you believe and forward any doubtful image, message, or video. Be cautious, be safe.
---
Find all fact-checking articles about news using Nokiye.com
The Sun Chants Om (NASA) I Nokiye
---
Post Date: 22 Nov 2021
Post ID: #79441