[SPAM] Former Prime Minister Indira Gandhi Having Sea Food In The Photo
A photo of former prime minister Indira Gandhi is shared on social media with claims that convey, she is having seafood
Post Information:
The below post has been circulating on social media
Former Prime Minister Indira Gandhi Having Sea Food In The Photo

दत्तात्रेय_ब्राह्मण की दादी #प्रसाद सेवन करते हुए एक चित्र…. भले ही आपको ये समुद्री भोजन या #झींगा लगे पर पप्पू पक्का दत्तात्रेय ब्राह्मण ही है

https://twitter.com/HarshikaJoshi3/status/1463003302212169736?ref_src=twsrc%5Etfw%7Ctwcamp%5Etweetembed%7Ctwterm%5E1463003302212169736%7Ctwgr%5E%7Ctwcon%5Es1_&ref_url=https%3A%2F%2Fpublish.twitter.com%2F%3Fquery%3Dhttps3A2F2Ftwitter.com2FHarshikaJoshi32Fstatus2F1463003302212169736widget%3DTweet
Verification: Former prime minister Indira Gandhi is  having fresh corn in the photo
A photo of former prime minister Indira Gandhi is shared on social media with claims that convey, she is having seafood. In fact, Indira Gandhi is enjoying fresh corn. The photograph was taken by veteran photographer Sridhar Naidu. The news of Sridhar Naidu's death was shared by The Hindu. on 25th Sep 2017The same photograph of Indira Gandhi can be seen in the article. The lines on the photo are " Former Prime minister Indira Gandhi digging heartily into Maize corn- a photograph clicked by Sridhar Naidu." Check the photo shared below in the screenshot from The Hindu.
Photo credits The Hindu.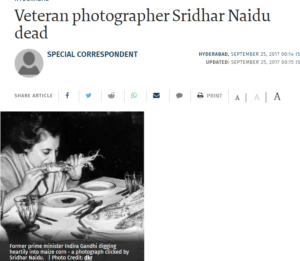 We ensure that you are updated with the facts. Please Check4spam before you believe and forward any doubtful image, message, or video. Be cautious, be safe.
---
Find all fact-checking articles about news using Nokiye.com
Former Prime Minister Indira Gandhi Having Sea Food In The Photo I Nokiye
---
Post Date: 24 Nov 2021
Post ID: #79458