[SPAM] Latest Satellite Pictures of JeM Camp, Balakot
The post circulating claiming to be the latest satellite pictures of JeM Camp at Balakot, Pakistan which was said to be destroyed by the Indian Air Force bombing is found to be false. Please find more details at the verification section of this article.
Post Information:
Below post has been circulating on social media.
https://twitter.com/IndianInterest/status/1101754696589430784
---
Verification:
Google Earth (PRO) has this wonderful feature to look at older captures of a location.
So when we looked more into the history of this building we found that this building construction might have started between 2012 and 2014.
This is a picture dated 22nd Dec 2012 for the same coordinates. We can see that the building didn't exist at that time.
Now why is this information crucial? 
Quoting from the article shown after the quote:
The 31 January, 2004 document, signed by Major General Geoffery Miller of the US Army says Rahman received training in Balakot, Pakistan, a location known to house a "training camp that offers both basic and advanced terrorist training on explosives and artillery.

Source: US knew of JeM terror camp in Pakistan's Balakot 15 years ago
So it's clear from here that the target JeM camp existed at least during 2004 or earlier, but we already found that for te area at the coordinates there was no building during 2012 and it mostly came after 2012.
Now let us looks at the latest image of the building available on Google Earth.
This is the latest picture of the building as captured on 25th April 2018.
Now when we move the timeline backward on Google Earth Pro we will see a picture as below.
This is the picture of the building as captured on 27th April 2014
Though the acurate picture as shown in the claim post picture was difficult to pin point to, it is pretty evident that this building is not the target camp which the WikiLeaks and India spoke about, and also the picture which is claimed to be the picture of the damaged building is very likely the picture of the building during it's construction period as the walls of the building are all intact in the claimed latest destroyed image of the building.
Again, this is the gound level picture of the building which is at the coordinates shown in the post.(Map reference)
This building doesn't match the pictures which were circulating to be of the JeM camp.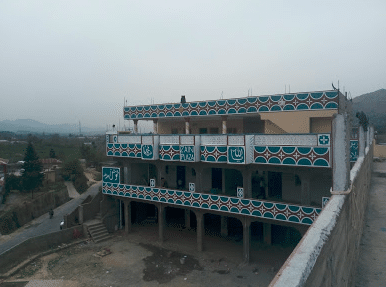 ---
We ensure that you are updated with the facts. Please Check4spam before forwarding and believing any doubtful image, message or video. Be cautious, be safe.
---
Find all fact checking articles about news using  Nokiye.com
Latest Satellite Pictures of JeM Madrasa, Balakot | Nokiye.com
---
Post Date: 03 March 2019
Post ID: #71484