[SPAM]

 Amritsar Train Driver Committed Suicide

This post circulating on social media is fake. Amritsar train driver did not commit suicide. Please find more details at the verification section of this article.
Post Information:
Posts and Video claiming that driver Arvind Kumar Mishra of the train that was involved in the dussehra day tragedy commits suicide are going viral on social media
Below post has been circulating on social media.

Verification: Amritsar train driver Arvind Kumar Mishra did not commit suicide
On 19th october, Dussehra day, a train going from Pathankot to Amritsar ran over many people who were participating in Ravan Dehan at Dhobi Ghat Amritsar. It is a very tragic incident that took away many lives and left others crying on the festival day. Meanwhile lot of rumors started spreading about the driver of the train involved in accident commits suicide. This is not true. The letter which is shared as suicide note is the train driver Arvind Kumar Mishra's statement. The picture of a man in image is not of the train driver Arvind Kumar Mishra. The news definately breaks us down, but few people make it worse by sharing fake messages and videos relating it to the sad news. Be careful about such false messages, pictures and videos. That's how few people with malicious intent play with emotions. We as an individual should be cautious enough not to carry forward such incorrect images and messages. The man shown hanging in image is Harpal singh and Amritsar police has verified this. Pictures and Videos, allegedly of the suicide are also being circulated.
"It is intimated that the pictures pertain to one Harpal Singh s/o Tarsem Singh r/o Bhikhiwind Distt Tarn Taran who committed suicide on 20.10.18 in PS Chatiwind area." Check the images below to know the fact.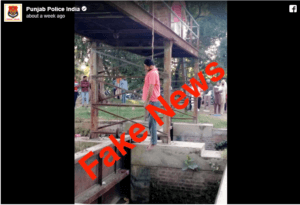 This is Statement of Driver Arvind Kumar Mishra after the accident.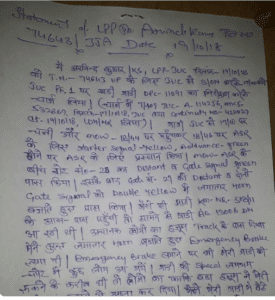 The driver of the DMU train Arvind Kumar has NOT committed suicide said Police commissioner Amritsar S. Srivastava.
The following is the statement he gave to the railway authorities, not a suicide note: pic.twitter.com/lbi3scfB2p

— Chitleen K Sethi (@ChitleenKSethi) October 22, 2018
Link: The Print India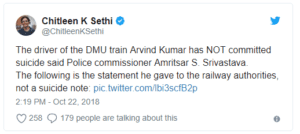 We ensure that you are updated with the facts. Please Check4spam before forwarding and believing any doubtful image, message or video. Be cautious, be safe.
---
Find all fact checking articles about news using Nokiye.com
Train Driver Commits Suicide | Nokiye.com
---
Post Date: 30 Oct 2018
Post ID: #69923
Thank You for visiting Check4Spam. Please write a comment at this article if you like our service.