[SPAM] The BULLIED 9 Years OId Boy 'Quaden Bayles', KlLLED Himself
Fake reports of committing suicide by 9 years old Quaden Bayles who lives with Achondroplasia, a form of dwarfism, is circulating on social media. Please read more about it in the verification section of this article.
Post Information:
Below post has been circulating on social media.
The BULLIED 9-yrs oId Boy 'Quaden BayIes', KlLLED himself, Left a 'Suicide VIDEO' in his Phone and Sent to Everyone at his School after BULLYING Worsens. – BBC NEWS
Verification: Quaden Bayles is very much alive
On Feb. 21, 2020, news circulated about a 9-year-old boy named Quaden Bayles with Achondroplasia. Quaden had received emotional and financial support from many celebrities and online do-gooders after he was bullied at school for being looking ugly and different from other kids. He was crying after being bullied. This ignited a movement against bullying. He was born with Achondroplasia, a form of dwarfism and is in constant pain. He has undergone a couple of surgeries, including surgery on his brainstem and spinal cord. The video of Quaden from Australia touched the hearts of many people. Comedian Brad Williams set up a GoFundMe for Quaden. The funds were raised more than several hundred thousand dollars for the kid. But his family now say that while they are touched by the goodwill of the people. They will donate the money fundraised for him to charity instead.
Quaden is very much alive. Please don't believe in fake viral posts. Check the links below to know the facts. The post is shared as if it was from the BBC. Click on the link on a fake shared post takes you to different unrelated links. Just a few second clips where a man says police found a body of nine years old. The time on the post is always 15 minutes ago and one hour ago. This can't be the scenario with real news channels.
There is a disclaimer at the end that says "This site DOES NOT CLAIM any OWNERSHIP or COPYRIGHT on ALL the audio or videos shared. Sources: Trending Portalz | Portalz | Trendz | BBC Portaz".
Check the screenshots below after we tried to click and see what was next: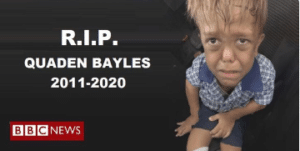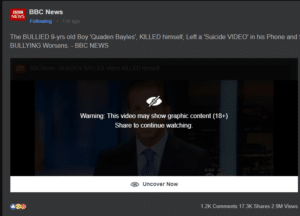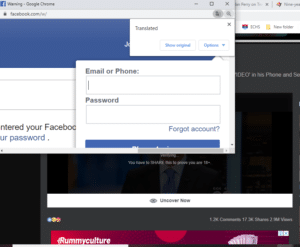 Yarraka Bayles for the first time on Wednesday spoke in detail about the video of her son crying and saying he wanted to kill himself. Read more
This video was shared by Quaden's Mom to raise awareness of bullying. The kid was very upset due to bullying and cried and didn't want to live
QUADEN: Nine-year-old Murri boy a hero amongst heroes.
Words by: Jodan Perry
Produced by: Jack Latimore, Daniel Gallahar & Rhanna Collins
Quaden Bayles is 9 years old and not 18 years old: Read more @thelogicalIndian
Now that we shared fact, let us know more about Achondroplasia:
Bullying is not good. It affects the mental status of a kid or anyone who is the victim of it. A bully can be of many types. Check the link below to know more about it.
Last but not the least check out the Comedian Brad Williams who set up a GoFundMe for Quaden:
We ensure that you are updated with the facts. Please Check4spam before you believe and forward any doubtful image, message or video. Be cautious, be safe.
---
Find all fact-checking articles about news using Nokiye.com
Quaden Committed Suicide I Nokiye
---
Post Date: 7 Mar 2020
Post ID: #75471