[SPAM] Dr Devi Shetty's Audio Message On CoronaVirus

Audio clip wrongly attributed to Dr Devi Shetty, Founder and Chairman Narayana Health. Please read more about it in the verification section of this article
Post Information:
Below post has been circulating on social media.
https://twitter.com/RogueRad/status/1240640720500862978
Verification: The audio message on Coronavirus is not shared by Narayana Health Founder and Chairman Dr Devi Shetty 
An audio clip is circulating with claims that the message is from the Cardiac Surgeon Dr Devi Shetty, Founder Narayana Health.
Narayana Health has clarified that this is not Dr Devi Shetty's voice and it has been wrongly attributed to him. Check the links shared below:
"Please note that the audio clip is not of Dr Devi Shetty, Chairman and Founder, Narayana Health. It has been incorrectly attributed to him".
In the following shared tweets, Narayana Health has replied to clarify that this is not Dr Devi Shetty's voice. Please click on the tweet and check the replies: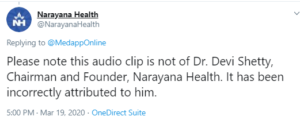 DR. DEVI SHETTY, Chairman of Narayana Health, spreads awareness to INDIANS ABOUT CORONA VIRUS. #DrDeviShetty #awareness #IndiaFightsCorona #StaySafeStayHome #medapp

— medapp.in (@MedappOnline) March 19, 2020
Narayana Health statement under one such video on Facebook.

— Satish K Singh (@SatkSingh) March 19, 2020
@NarayanaHealth #DeviShetty 's appeal to Indians about #coronavirus outbreakhttps://t.co/FOu3qQzqlS Excellent presentation @AnantBhan @d_s_thakur

— Ash Paul (@pash22) March 19, 2020
Watch | "There is no cure…message for everyone in India is stay at home": Dr Devi Shetty tells NDTV.#Coronavirus #CoronavirusPandemic #COVID19 pic.twitter.com/yfKL1bfrnk

— NDTV (@ndtv) March 13, 2020
Read more @thequint
We ensure that you are updated with the facts. Please Check4spam before you believe and forward any doubtful image, message or video. Be cautious, be safe.
Find all fact-checking articles about news using Nokiye.com
Dr Devi Shetty's Audio Message On CoronaVirus I Nokiye
---
Post Date: 19 Mar 2020
Post ID: #75620