[SPAM] Spraying Medicine In The Air Tonight To Kill COVID-19 In Bangalore
The fake post is shared as a WhatsApp message regarding spraying medicine in the air to kill COVID-19 in Bangalore. Please read more about it in the verification section of this article.
Post Information:
Below post has been circulating on social media.
Hello, every one in Bangalore kindly request you not to come out of your house after 10 pm tonight till tomorrow 5 am…. As their will be spraying medicine in the air in order to kill the COVID-19!!
Share this information to all your friends,relatives and your families only in Bangalore…
Thank you!
Verification: The message shared is not authentic official circular from BBMP
There is no official circular about spraying of medicine in the air to kill COVID-19 in Bangalore. People are not asked to stay at home for this reason by any authorities. In general, due to the Coronavirus breakout, it is advised to be safe and avoid going out.
Janasnehi Karnataka clarifies the fake message in the following tweet:
Kindly do not believe in any rumour until it is issued from the authentic officials as circular.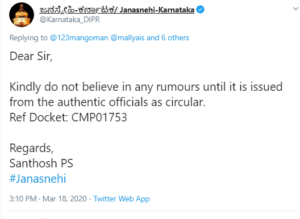 Kindly confirm the news @BBMPCOMM @Randeep_Dev @BlrCityPolice @Karnataka_DIPR @BangaloreMirror @mani1972ias

— ಸಾಮಾನ್ಯ ನಾಗರಿಕ🇮🇳 (@123mangoman) March 18, 2020
We ensure that you are updated with the facts. Please Check4spam before you believe and forward any doubtful image, message or video. Be cautious, be safe.
---
Find all fact-checking articles about news using Nokiye.com
 Spraying Medicine In The Air Tonight To Kill COVID-19 In Bangalore I Nokiye
---
Post Date: 18 Mar 2020
Post ID: #75601