[SPAM] Vaccinated Bride Seeks Vaccinated Groom
The paper cutting is shared with text that shows a matrimonial advertisement from a Covishield vaccinated girl seeking a vaccinated groom
Post Information:
The below post has been circulating on social media
Vaccinated Bride Seeks Vaccinated Groom

Vaccinated bride seeks vaccinated groom! No doubt the preferred marriage gift will be a booster shot!? Is this going to be our New Normal?#vaccine #COVISHIELD pic.twitter.com/3OMwL5ZSqk

— Nanostein (@nanostein) June 9, 2021

https://twitter.com/ShashiTharoor/status/1402158286741282820?ref_src=twsrc%5Etfw%7Ctwcamp%5Etweetembed%7Ctwterm%5E1402158286741282820%7Ctwgr%5E%7Ctwcon%5Es1_&ref_url=https%3A%2F%2Fpublish.twitter.com%2F%3Fquery%3Dhttps3A2F2Ftwitter.com2FShashiTharoor2Fstatus2F1402158286741282820widget%3DTweet
Verification: The matrimonial advertisement is created with the online application
The paper cutting is shared on social media with text that shows a matrimonial advertisement. The advertisement is about a Catholic girl who took two-dose of Covishiel vaccination is looking for vaccinated partners for marriage.  The viral posts can be seen here and here.
The paper advertisement is not real. It is created with an online application available online. Check the app fodey.com. We just created a clip using it. Check out and see the similarity. On the left side, you can see the same text on the border. The space between words is not appropriate. If you look at the genuine newspaper, there will not be irregular gaps between words. The words in the brackets are also not spaced properly. Punctuation is incorrect.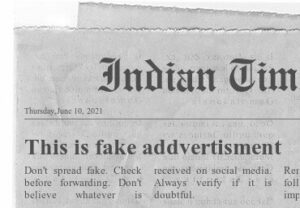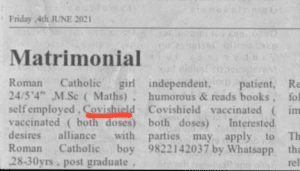 We ensure that you are updated with the facts. Please Check4spam before you believe and forward any doubtful image, message, or video. Be cautious, be safe.
---
Find all fact-checking articles about news using Nokiye.com
Vaccinated Bride Seeks Vaccinated Groom I Nokiye
---
Post Date: 10 June 2021
Post ID: #78810