[SPAM] New Zealand Prime Minister Jacinda Arden Support Indian Farmers
Irrelevant photos are connected to give misleading claims regarding New Zealand PM Jacinda Arden supporting Indian Farmers
Post Information:
The below post has been circulating on social media
न्यूजीलैंड की pm ने भारत के किसानो के पक्ष मे काला सूट पहनकर व सरकार जहाज को काला रंग करवाकर ब्लैक डे का समर्थन कर दुनिया को चौका दिया)

Verification: New Zealand Prime Minister did not support Indian Farmers
Irrelevant images are circulating on social media with claims "न्यूजीलैंड की pm ने भारत के किसानो के पक्ष मे काला सूट पहनकर व सरकार जहाज को काला रंग करवाकर ब्लैक डे का समर्थन कर दुनिया को चौका दिया)
*न्यूजीलैंड की pm ने भारत के किसानो के पक्ष मे काला सूट पहनकर व सरकार जहाज को काला रंग करवाकर ब्लैक डे का समर्थन कर दुनिया को चौका दिया*kissan ekta jindawaad."
When searching in Google, the photo of New Zealand PM Jacinda Arden in a black dress can be seen in many articles published in the year 2019 when New Zealand PM met the Muslim community members to offer support and condolences to the family members of those killed in the shooting. Prime Minister Jacinda Ardern wore the Islamic veil in tribute to Muslim victims, killed during Friday prayers.
Check the image shared in the articles: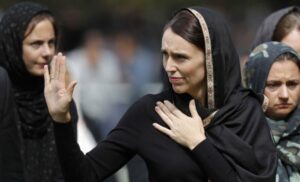 The plane was not painted black to support Indian Farmers. The image of Black plain can be seen in the link shared below. The video is shared on Air New Zealand and the description "Air New Zealand's sponsorship of the New Zealand Rugby Football Union, including the All Blacks, enters its seventeenth year in 2011. The first aircraft will be the only one in the fleet featuring the new all-black livery.
"Air New Zealand is crazy about rugby and from February this distinctive new plane will be operating on our main domestic New Zealand routes, says Mr. Fyfe.
The new domestic fleet of A320 aircraft, combined with Air New Zealand's new long-haul fleet of Boeing 777-300 aircraft, which begin arriving from the end of this year, will ensure the airline continues to have one of the youngest aircraft fleets in the world. The video was published on 8 Dec 2010. Check the still from the video shared below:
We ensure that you are updated with the facts. Please Check4spam before you believe and forward any doubtful image, message, or video. Be cautious, be safe.
---
Find all fact-checking articles about news using Nokiye.com
New Zealand Prime Minister Jacinda Arden Support Indian Farmers I Nokiye
---
Post Date: 07 June 2021
Post ID: #78799