[SPAM] Temple Found On Demolishing A Mosque In Raichur
Temple found on demolishing a Mosque in Raichur is a fake post circulating on social media. Please find details in this article.
Post Information:
Below post has been circulating on social media.

Verification: No, this is not a Hindu temple discovered after a mosque was demolished in India

This is another post that is similar to many other fake posts that are getting viral without knowing the facts behind them. This was posted on twitter on 11th Nov 2018, and other social media on various dates. Whereas the image was posted by an artist named Chandra Colourist who created the digital image using an original image from The Caves of Longmen Grottoes as  Akshaya Tritiya wishes on his Facebook account and you can clearly see the logo at the right side that says Chandra Colourist. Look at the below post an artist posted 3 years ago: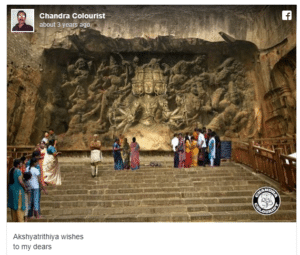 This particular post, then was shared with false claims by many on different social platforms. It received number of views and comments. In fact its not true.This image is digitally created using the following image from The Caves of Longmen Grottoes. Check the image below and compare with the wrongly claimed image and fake posts: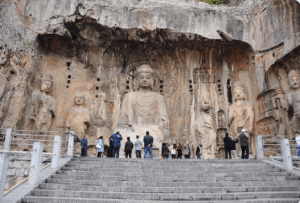 Mr Chandra himself clarified on his facebook account that this was his digital creation. Check the post below: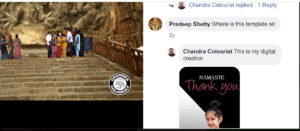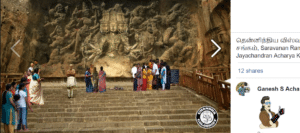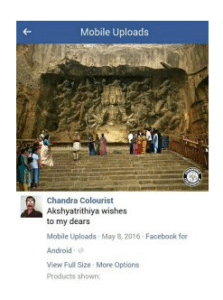 Check4spam talked to Mr Chandra on 21st Nov 2018, and he told us that he created this image and shared as wishes for festival. But it became viral with wrong captions. You can see his name in the middle of image. The logo is very prominent to know the fact. Below is the image he sent us on Whatsapp to tell the fact: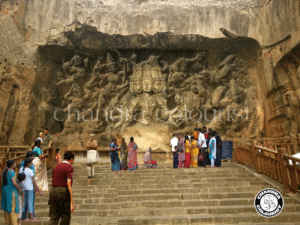 Now let us compare the two images below. That will be easier for all to understand how fake is the post shared by people who just post on media to fool us: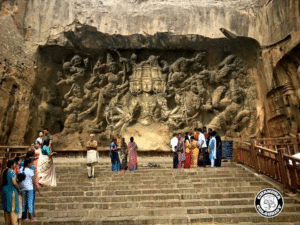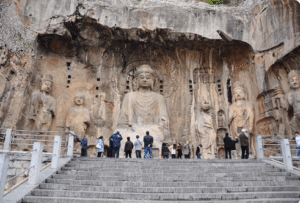 There are various clues in both images. Look at the cuts on the roof that covers the statues. Off course the logo says it all that is mentioned on the first image. Structure of the image is very similar. Above all the Creator himself clarifies that the first image as his creation using second image as inspiration. Read more about Artist Chandra Colourist.
Now lets see what was the news from Raichur:
Structures, including places of worship, cleared for road widening in Raichur
APRIL 10, 2016 20:12 IST
UPDATED: APRIL 10, 2016 20:12 IST:
Read More:The Hindu
"We have partially cleared structures on either side of the stretch to make it a 50-ft wide road. Most of the cleared structures were commercial shops. No residential structure was there to be demolished. One mutt and two masjids were also partially demolished. A day earlier, we had a meeting with Ek Minar masjid authorities who agreed to the partial demolition of the masjid. Today, another group came and objected to it," Mr. Senthil told The Hindu.
Know more about The caves of Longmen Grottoes:
---
Find fact checking articles on this topic using Nokiye.com
Temple Found On Demolishing A Mosque In Raichur | Nokiye.com
---
Post Date: 21 Nov 2018
Post ID: #70222
Thank You for visiting Check4Spam. Please write a comment at this article if you like our service.