[SPAM]

 Real Life Of Kerala Police Men, Unknown To The General Public

This post circulating on social media showing it as Kerala Police is with false caption. Please find more details at this article.
Post Information:
Below post has been circulating on social media.
The post claims

"Real Life Of Kerala Police Men, Unknown To The General Public"
Verification: These images of Police sleeping on Guard Duty are of Guindy Chennai.
Such false claims to the right images are once again spreading on social media. Look at the image carefully. You can see few words. We can always figure out what may be written on the image. But still we keep believing it and spread it further. Be a little cautious about what you see and what you feel about the image and message you recieve. Its healthy for us and our society that we exist in. We need to receive and share the facts and just not the fakes.
Let's now look at the image below and figure what exactly is written. Words are Guindy Traffic. Now you can relate that the images are from Tamilnadu. So we can rule out the option of believing it as from Kerala. Look out for some news that is related to the image from Chennai on internet. It is not very difficult, just a little of awareness is required by all of us. So please Check4spam before you spread any fake news.Check the links belows to know the fact.
Times Of India Tamil Nadu State News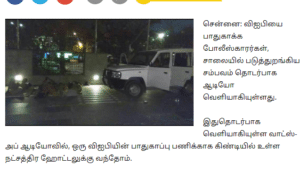 No respite for police on guard duty, many sleep on pavement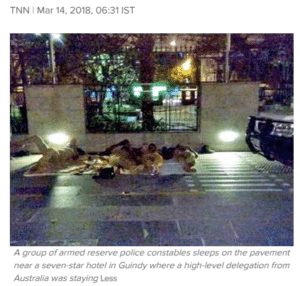 We ensure that you are updated with the facts. Please Check4spam before forwarding and believing any doubtful image, message or video. Be cautious, be safe.
---
Find all fact checking articles about news using Nokiye.com
Kerala Police | Nokiye.com
---
Post Date: 20 Nov 2018
Post ID: #70211
Thank You for visiting Check4Spam. Please write a comment at this article if you like our service.