[SPAM]  Tamilnadu Police Found Dead Bodies Of  Children With Missing Organs
This image is circulating on social media with false audio message. Please find more details at the verification section of this article.
Post Information:
In this audio clip, a person can be heard saying: "Tamil Nadu Police ko ek container se bachon ki lash mili. In bachon ke jism ke andar ka hissa nikala gaya hai ,jaise kidney, lever.Tamil Nadu Police ne bataya in sare bachon ko alag alag deshon se kidnap karke laaya gaya hai. Note.. apne ghar ke bachon ko sambhalo, unka khayal rakho, apne sare group me ye message send karo. Iss photo ko itna failao taki kutta pakda jana chahiye, agar jisne yeh nahi failaya vo apni maa ka sapoot nahi. Apne phone me chahe kitne bhi group ho 1,2,3,4 ya 25 ye saare group me bhejo, haramkhor pakda jana chahiye."
Verification: These dead bodies of 5 children were found from a pond in Chikhali village in Sendhwa Madhya Pradesh.They were not found by Tamilnadu police and were not killed for their organs
Check the video and the links shared below to know the fact.
Link: मप्र: सेंधवा में दिल दहला देने वाली घटना: एक ही परिवार के पांच बच्चों के कुएं में मिले शव, माता-पिता फर.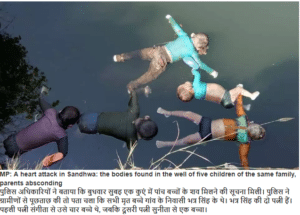 After investigation, according to police, Bhatar Singh, father of the children told that he himself murdered his own children due to the tensions in family.
Link: सेंधवा : पिता ही निकला 5 बच्चों का हत्यारा, इसलिए की थी वारदात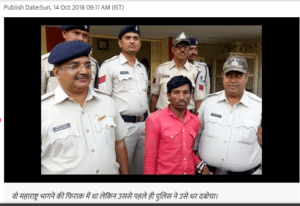 Such rumors scare us. That's because we don't know the truth behind them. We need to check these kind of audio, video and images before we pass it on further to scare others. This is a true image with absolute fake audio message claiming about the children murdered for organ harvesting.
The image is from Sendhwa Madhya Pradesh, and the audio message says that Tamilnadu police found these bodies from containers and the organs from bodies were missing. The person in audio also uses abusive language to provoke others. This is totally misleading the public. In fact this is an image from an unfortunate incident happened at Chikhali village, Sendhwa, Madhya Pradesh, where the children were killed by their own father due to family dispute.
We ensure that you are updated with the facts. Please Check4spam before forwarding and believing any doubtful image, message or video. Be cautious, be safe.
Please also note there was an old similar fake which was in circulation.
https://check4spam.com/internet-rumours/container-kids-found-tamil-nadu-police-spam/
---
Find all fact checking articles about news using Nokiye.com
Tamilnadu Police Found Dead Bodies Of Children With Missing Organs | Nokiye.com
---
Post Date: 16 Nov 2018
Post ID: #70152
Thank You for visiting Check4Spam. Please write a comment at this article if you like our service.