[SPAM] Raghuram Rajan Is The New Governor Of The Bank Of England
A photo of former Reserve Bank of India (RBI) Governor Raghuram Rajan congratulating him on being appointed as the new governor of the Bank of England
Post Information:
The below post has been circulating on social media
Raghuram Rajan Is The New Governor Of The Bank Of England

श्री रघुराम राजन जी जैसे कोहिनूर की परख तो इंग्लैंड ने किया,
श्री रघुराम राजन जी को बैंक ऑफ इंगलैंड का गवर्नर बनाये जाने पर बहुत बहुत बधाई।।
हीरे की परख जौहरी जानता है भिखारी नहीं

Congratulations to sir rajan for being appointed as governor of bank of England. pic.twitter.com/hv0q7EDsEF

— WILBRO.DSOUZA♥ (@WILBRODSOUZA) May 8, 2022

https://twitter.com/Pawan__Ambedkar/status/1523003315478425600?ref_src=twsrc%5Etfw%7Ctwcamp%5Etweetembed%7Ctwterm%5E1523003315478425600%7Ctwgr%5E%7Ctwcon%5Es1_&ref_url=https%3A%2F%2Fpublish.twitter.com%2F%3Fquery%3Dhttps3A2F2Ftwitter.com2FPawan__Ambedkar2Fstatus2F1523003315478425600widget%3DTweet
Verification: Raghuram Rajan is not the new Governor of the Bank of England
A photo of former Reserve Bank of India (RBI) Governor Raghuram Rajan (23rd Governor of the Reserve Bank of India In office 4 September 2013 – 4 September 2016) is being shared on social media, with a text that congratulates him on being appointed as the new governor of the Bank of England. The claim is being written in English (Many congratulations to Shri #Raghuram Rajan ji on being appointed as the Governor of Bank of England) and Hindi (श्री रघुराम राजन जी जैसे कोहिनूर की परख तो इंग्लैंड ने किया,
श्री रघुराम राजन जी को बैंक ऑफ इंगलैंड का गवर्नर बनाये जाने पर बहुत बहुत बधाई।।
हीरे की परख जौहरी जानता है भिखारी नहीं) in various posts on social media. The post is shared on Twitter and Facebook.
The bank's website shows Andrew Bailey as its governor who took charge in 2020.
Raghuram Rajan is not the new Governor of the Bank of England. In fact, The Bank of England's Governor is Andrew Bailey, who will stay in office until 2028. Check the screenshots from the Website of the Bank of England here and here. According to the information shared on the website, the Term of appointment: is 16 March 2020 to 15 March 2028. On 20 December 2019, Andrew Bailey was announced as the new Governor of the Bank of England. He began his term on 16 March 2020.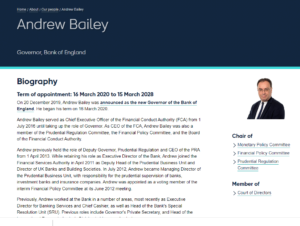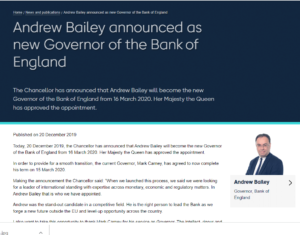 Check the latest video regarding Treasury Select Committee re February Monetary Policy Report (9.30 am)  in the link shared here with the description "Witness(es): Andrew Bailey, Governor, Bank of England; Ben Broadbent, Deputy Governor, Monetary Policy, Bank of England; Jonathan Haskel, External Member, Monetary Policy Committee; Professor Silvana Tenreyro, External Member, Monetary Policy Committee." Treasury Committee meeting on
Wednesday 23 February 2022 started at 9.28 am and ended at 11.38 am.
Shashi Tharoor shared the false claim in 2018. The claim was then debunked by various fact-check organizations. Read more @Altnews.
Boomlive contacted Raghuram Rajan and he clarified the rumor and mentioned the claim was false. He told Boomlive "I am very happy with my current job and have not searched for, nor been offered, any other."
Remarkable: India's RaghuramRajan has been appointed Governor of the Bank of England! https://t.co/xdIop5Ltuv With an Indian (NasserHusain) having captained the England cricket team already, all that's left to complete a reverse colonization is for an Indian to be Prime Minister.

— Shashi Tharoor (@ShashiTharoor) May 5, 2018
We ensure that you are updated with the facts. Please Check4spam before you believe and forward any doubtful image, message, or video. Be cautious, be safe.
---
Find all fact-checking articles about news using Nokiye.com
Raghuram Rajan Is The New Governor Of The Bank Of England I Nokiye
---
Post Date: 13 May 2022
Post ID: #80191