[SPAM] 

Best Photograph Declared
The news is not true. This was an April Fool Post. The photo is not the best photography. This is created by Photoshop. More details at the verification section of this article.
Post Information:
Below post has been circulating on social media.
Below post has been circulating on social media.

ഈ വർഷത്തെ ഏറ്റവും മികച്ച ഫോട്ടോഗ്രഫി എന്നു കണക്കാക്കപ്പെടുന്ന ചിത്രമാണിത്.  ആഫ്രിക്കൻ സാവന്നയിൽ കൊടും ചൂടിൽ നടക്കാൻ വയ്യാതായ ഒരു സിംഹക്കുട്ടിയെ തുമ്പിക്കയിൽ എടുത്ത് അടുത്തുള്ള l ചെറുകുളത്തിനരികിലേക്ക് നടക്കുന്ന ആനയും പെൺ സിംഹവും. ഇവരെയാണ് നാം "വന്യ" മൃഗങ്ങളെന്ന് വിളിക്കുന്നത് ; നമ്മളെ മനുഷ്യർ എന്നും……

Translated with Google:
It is considered to be the best photography of the year. An African lion carrying a lioness lake in the trunk of the snake and walking near the lower l axis and the female lion. These are the ones we call "wild" animals; We are human beings.

https://www.instagram.com/p/BxP2MJypl6f/?utm_source=ig_web_copy_link
Verification: This is not declared as Best Photograph
Kruger National Park posted this picture on April 1st 2018 as an April fool joke .The caption clearly shows the words "April Fool's Joke" that may have been unnoticed by a few viewers and the stories with different captions are  circulating on social media about how animals are much more compassionate and kind than human. People are getting carried away emotionally by the fake stories and are forwarding such fake news without inquiring about it. Picture is being claimed to be the best Photograph of the year, which is False message circulating. The fake photograph is smartly created by Photoshop using three real photographs. Read more MumbaiMirror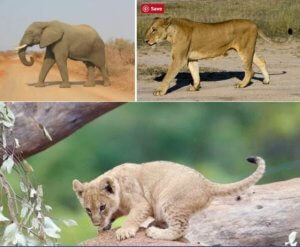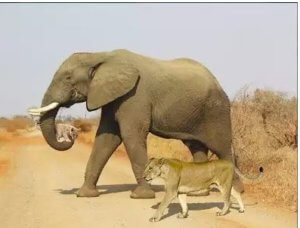 ---
Though the post has been debunked by many fact checking sites last year, the fake post is still being shared recently on instagram.  
Find fact checking articles on this topic using Nokiye.com
       Image Of An Elephant Carrying A Cub In His Trunk | Nokiye.com
---
Post Date: 30 sep 2018
Post ID: #69497
Thank You for visiting Check4Spam. Please write a comment at this article if you like our service.