[SPAM] कैसी ट्रेनिंग इन्हें अभी से मिल रही है
A clip from Bollywood movie "Blank" is shared with false and provoking claims on social media. Please read more about it in the verification section of this article.
Post Information:
Below post has been circulating on social media.
देखिए इस वीडियो को और तुलना कीजिए इन बच्चों की अपने बच्चों से। कैसी ट्रेनिंग इन्हें अभी से मिल रही है। उसके बाद हमारे बच्चे कितनी देर इनके आगे टिक पाएँगे? हमारी नाक के नीचे हो रहा है ये।अगर अभी सतर्कता नहीं बरती तो जो कश्मीर में हुआ वो यहाँ भी ज्यादा से ज्यादा ३० साल ही दूर है।

https://twitter.com/madhukishwar/status/1237588456181616642
Verification: Video shared is a clip from Bollywood movie"Blank" starring Sunny Deol
Sadde Sunny Phaji ne dekh liya to??????
Ye Dhai Kilo Ka Hathh Pada to Insan Uthata Nahi Uth Jata Hai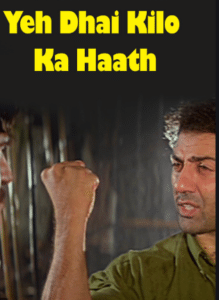 The scene from Sunny Phaji staring Bollywood movie "Blank" is used to make the fake and provocating post on social media. Check the links below to know the facts:
The same scene can be observed in the"Blank" movie trailer. Check the screenshots shared below: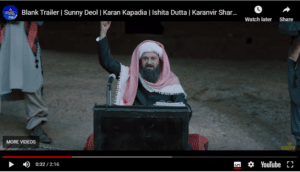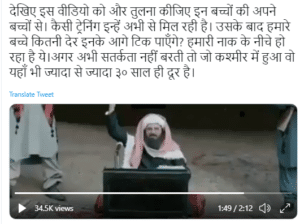 Check the download link for the movie "Blank" where you can see the same person as in provoking post with misleading captions on social media:

Read more @BoomLive
We ensure that you are updated with the facts. Please Check4spam before you believe and forward any doubtful image, message or video. Be cautious, be safe.
---
Find all fact-checking articles about news using Nokiye.com
कैसी ट्रेनिंग इन्हें अभी से मिल रही है I Nokiye
---
Post Date: 5 Mar 2020
Post ID: #75508