[SPAM] Training Given To Women Commandos Of Indian Army
A video showing a group of women in uniform claiming to be from the Indian Army is being circulated on social media
Post Information:
The below post has been circulating on social media
Indian army #army #art #artist

https://twitter.com/goelgauravbjp/status/1540576445298135040?ref_src=twsrc%5Etfw%7Ctwcamp%5Etweetembed%7Ctwterm%5E1540576445298135040%7Ctwgr%5Edf3cefdd58984100a7bc9296557613e8e5c1d50a%7Ctwcon%5Es1_&ref_url=https%3A%2F%2Fpublish.twitter.com%2F%3Fquery%3Dhttps3A2F2Ftwitter.com2Fgoelgauravbjp2Fstatus2F1540576445298135040widget%3DTweet
Verification: The women in the video are commandos of the Sindh Police of Pakistan
A video showing a group of women in uniform claiming to be from the Indian Army is being circulated on social media. The viral video shows uniformed women soldiers jumping above a fire rope as part of their training. The caption to the viral video is "Indian army #army #art #artist." The same video is viral with the caption " भारत मां के शेर" and the song "Tere Mitti Mein mIl Jawan" and was shared by Gaurav Goel on Twitter.
It is not true. In fact, the viral video is about the training of women commandos of the Sindh Police of Pakistan in August 2019 and it does not depict the Indian Army training women commandos.  A Facebook page named Voice Of Karachi and Karachi Walay shared the same video uploaded on 9 August 2019 with the caption: "Pakistan Zindabad, Sindh police commandos." Check the screenshot from the link: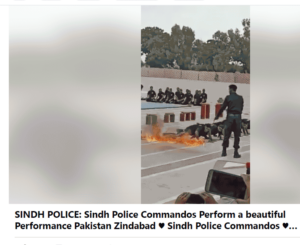 The same kind of performance can be seen in the video shared below that is shared by Sirfdua-4U with the caption "Sindh Police Training By Pakistan Army | Sindh Police Pass Out Parade Ceremony."
Sindh Police Commando is the particular security unit (SSU) specialized counter-terrorism security unit of the Sindh Police in Pakistan, it is a Karachi-based unit.
Video shared is not from India but from Karachi and is showing how women commandos are trained.
We ensure that you are updated with the facts. Please Check4spam before you believe and forward any doubtful image, message, or video. Be cautious, and be safe.
---
Find all fact-checking articles about news using Nokiye.com
Training Given To Women Commandos Of Indian Army I Nokiye
---
Post Date: 07 Oct 2022
Post ID: #80773