[SPAM] Consuming Tulsi Juice, Noni Juice Prevent From Coronavirus- Aaj Tak, WHO
Photoshopped screenshot from Aaj Tak news channel is shared with false claims regarding the use of Tulsi and Noni juice as prevention from Coronavirus. Please read more about it in the verification section of this article.
Post Information:
Below post has been circulating on social media.
तुलसी पीने से नही होगा कोरोना का असर। WHO द्वारा जारी की गई सूचना।
नोनी जूस पीने से नहीं होगा कोरोना का असर आज तक की रिपोर्ट

https://www.facebook.com/photo.php?fbid=2835707643188711&set=a.128505057242330&type=3

https://www.facebook.com/photo.php?fbid=1766557736819376&set=pcb.1766557850152698&type=3&theater
Verification: Aaj Tak Channel screenshots are morphed and shared with fake claims
The post shared on social media is not true. The screenshot of Aaj Tak news channel is created in a way to fool others. Whereas there are no such claims by AajTak or WHO. Tulsi juice and Noni juice is not declared as prevention from coronavirus.
The screenshots have few dissimilarities to that of real Aaj Tak channel. Time on both the screenshots is the same as can be seen on the right corner of the morphed screen. Information at the down is also the same in both fake images. "कोरोना" is written as "कोरोनो". The colour of the background is not the same as of the real AajTak channel screen. In the first post about Tulsi juice, some numbers are seen, whereas it's not so in the other one. If you look at the lower side of the screen, the boundary of the box has an incomplete white line whereas, in real AajTak screen, the box has a full white line boundary.
We called on the contact number provided on the post. The concerned person got the screenshot from the company and the screenshot was shared it to sell their product. Though the person himself did not know who created this screenshot. He just shared it. As per the conversation the person works under IMC Pvt Ltd Ludhiana.
Check the real screen of Aaj Tak and the comparison can be done to know the facts:
Real                                                                                                       Fake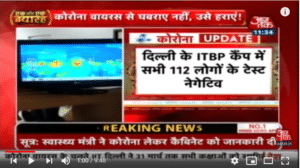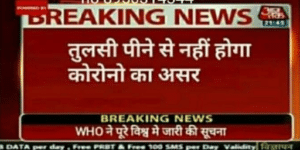 After we had a conversation with the person (Vikas Pratap Singh) who posted the fake screenshot along with the contact number on Facebook, has now removed his post. We appreciate that your action Mr Vikas.
Coronavirus disease (COVID-19) technical guidance: Infection prevention and control / WASH: Read more @World Health Organization
Steps to Prevent Illness: Read more @ Centers For Disease Control And Preventions (CDC)
Read more @BoomLive
We ensure that you are updated with the facts. Please Check4spam before you believe and forward any doubtful image, message or video. Be cautious, be safe.
---
Find all fact-checking articles about news using Nokiye.com
Aaj Tak, Tulsi Juice, Coronavirus I Nokiye
---
Post Date: 13 Mar 2020
Post ID: #75527