[SPAM] A Shudra Labour Feeding On Leftovers From A Religious Ceremony In Uttar Pradesh (2019) 75 Yrs Of Independence!!

Image from Bangladesh is shared as from Uttar Pradesh with false captions on social media. Please read more about it in verification section of this article.
Post Information:
Below post has been circulating on social media.
https://twitter.com/ankushthebest10/status/1214580195975237638
Verification: Image is from Bangladesh and not from Kashi, Uttar Pradesh
The image of a man eating leftover food dumped near vehicle is shared as from Kashi, Uttar Pradesh. Its not true. The vehicle is of Bangladesh Police. The Logo of Bangladesh Police can be seen on vehicle. Police is written in Bangla language on the same vehicle. Check the links below to know the fact about the image:
Fascist Awami rule is ruining the country: Read more
The article is shared by Pinaki Bhattacharya, Blogger, online activist and human rights defender from Bangladesh
Written by Pinaki Bhattacharya

This is a recent photo from Bangladesh. A hungry man is feeding himself with some leftover food he found by the road, the photo shows. The adjacent vehicle with the embossed insignia on it shows that it belongs to Bangladesh police. The frame shows what we know as Sheikh Hasina's so-called development in Bangladesh.

A mafia gang took away people's rights to vote, fraudulently came to power and has formed a fascist government which is looting the country in all possible ways it can. And, the international community is aware of the situation in Bangladesh.

Many years later, it will be called a staged photo and that it was shot to embarrass and trouble the currently ruling party of Awami League. We all know how the pro-Awami League groups claim that "Jaal Pora Basanti" or Basanti in Fishing Net- the famous photo of the 1974 famine in Bangladesh- was staged to trouble Mujib government and his party.

Awami League has destroyed the state of Bangladesh in the past decade on the pretext of establishing the spirit of the Liberation War. All fascist rulers use some pretexts to establish certain principles or ideals in an attempt to legitimise their misuse of power or rule of persecution. On its mission to establish the fascist rule in the country, Awami League got immense support from the urban middle class, so-called cultural elite, most Hindus and, unfortunately, a large section of the Leftist community. These Communists disbanded their party when Sheikh Mujib introduced a single-party system of BaKSAL in Bangladesh.

All those who criticised the Awami rule were branded Islamist militants, before being eliminated. Awami rule has let India turn Bangladesh into its new colony. If this Awami rule continues longer, Bangladesh might find it difficult to retain its existence as an independent sovereign state.

In the interest to save the sovereignty and people of Bangladesh we urgently need to unite on a platform, irrespective of our views and political allegiance.

It is the duty of every patriot to free our motherland from the clutches of the fascist monster. I hope, the creator will help us succeed in our mission by guiding us on the right path.
https://www.facebook.com/story.php?story_fbid=3771029099589609&id=100000476686357
Video shared below was published on 21st Sep 2018 by Bangla Back Taan. The same man can be seen in the video. 
https://youtu.be/lJABTnC8E4A
---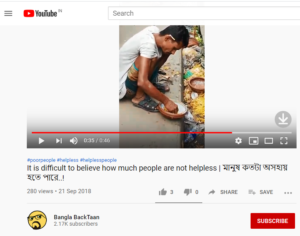 ---
We ensure that you are updated with the facts. Please Check4spam before you believe and forward any doubtful image, message or video. Be cautious, be safe.
---
Find all fact checking articles about news using Nokiye.com
Shudra Eating Leftover Food In Kashi I Nokiye
---
Post Date: 14 Jan 2020
Post ID: #74923