[SPAM] Saudi Man Ate Two Of His Four Wives For His Survival In Desert

This post that claims that Saudi man survived 13 days stranded in desert by eating two of his four wives  circulating on social media is fake. Please find more details at the verification section of this article.
Post Information:
Below post has been circulating on social media.
Saudi man survived 13 days stranded in desert by eating two of his four wives
Verification: No, Saudi man did not eat his wives to satisfy his hunger in desert
Once again Satire website  "World News Daily Report" cooked up unbelievable story.
The story goes as follows: 
A Saudi man and two of his four wives have miraculously survived after a tragic car crash left them stranded in the scorching heat of the Saudi desert for 13 days. Mustafa Ali Hamad, 41, and his four wives were traveling to a family greeting near Ash Shalfa when they took a wrong turn during a sand storm and crashed their vehicle, which killed one of Hamad's wife on the spot.Read more: "World News Daily Report"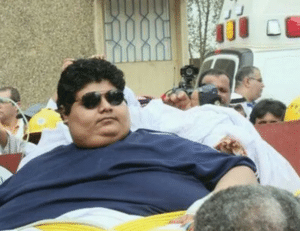 The Satire website "World News Daily Report" published totally a different version of the story on 16 January 2019. The name has been changed to Mustafa Ali Hamad and the age written is 41. The boy must be 25 or 26 years old as of now. There is absolute no truth to the published story. Do not get fooled by this kind of fake and cooked up matters. There is no relevance to the actual incident.
The fact is something else:
Check what is written at the left side of the image below.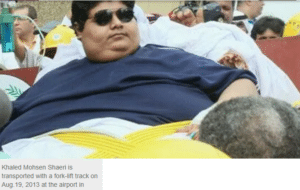 This is the case happened on 19 August 2013. This boy named Khaled Mohsen Al Shaeri ( World heaviest teenager, weighed 610 kg) was being air lifted from his house to the hospital for the treatment.
Late King Abdullah financed his medical treatment. Khaled was in his twenties then and was operated at King Fahd Medical City in Riyadh to remove 80 kg from his stomach after he became unable to walk. Read more to know what is the truth.
The caption on image shared below is fake.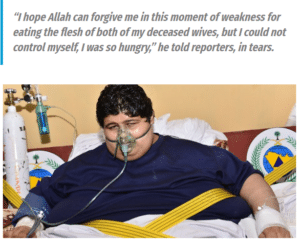 Check the video below that shows the real story about the same boy Khaled: 
Below is the real image: This is an image of Khaled while he was under treatment for his obesity in hospital. Read more.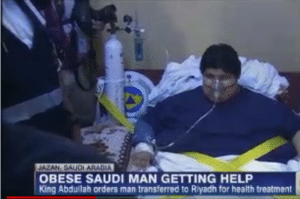 Read more about the Transformation of Khaled: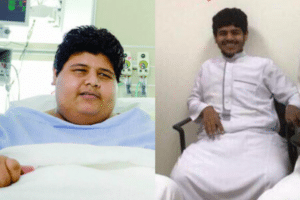 We ensure that you are updated with the facts. Please Check4spam before forwarding and believing any doubtful image, message or video. Be cautious, be safe.
---
Find all fact checking articles about news using Nokiye.com
Saudi Man Ate Two Of His Four Wives | Nokiye.com
---
Post Date: 17 Jan 2019
Post ID: #70826
Thank You for visiting Check4Spam. Please write a comment at this article if you like our service.