[SPAM] Sabarimala Temple's 'Aravana Prasadam' Is Made By UAE Based Company Al-ZAHAA
A photo of a package of 'Aravana Payasam' from UAE is being shared on social media with false claims and communal twists that it is the 'Aravana Prasadam' sold by Kerala's Sabarimala temple to devotees
Post Information:
The below post has been circulating on social media
Sabarimala Temple's 'Aravana Prasadam' Is Made By UAE Based Company Al-ZAHAA

Aravanapayasam the main prasadan of Sabrimala, is not only now Islamic but halal too, with an Arabic name.

Cute… pic.twitter.com/IWoBJBAjCz

— Indu Makkal Katchi (Offl) 🇮🇳 (@Indumakalktchi) November 12, 2021

https://twitter.com/petamah/status/1459744149599514625?ref_src=twsrc%5Etfw%7Ctwcamp%5Etweetembed%7Ctwterm%5E1459744149599514625%7Ctwgr%5E%7Ctwcon%5Es1_&ref_url=https%3A%2F%2Fwww.boomlive.in%2Ffact-check%2Fsabarimala-temples-aravana-prasadam-is-not-made-by-uaes-al-zahaa-15617

https://twitter.com/HindudharmAagam/status/1459393893456306177?ref_src=twsrc%5Etfw%7Ctwcamp%5Etweetembed%7Ctwterm%5E1459393893456306177%7Ctwgr%5E%7Ctwcon%5Es1_&ref_url=https%3A%2F%2Fpublish.twitter.com%2F%3Fquery%3Dhttps3A2F2Ftwitter.com2FHindudharmAagam2Fstatus2F1459393893456306177widget%3DTweet
Verification: Sabarimala Temple's 'Aravana Prasadam' is not made by UAE based company Al-ZAHAA
A package of 'Aravana Payasam' manufactured by United Arab Emirates (UAE) based company by the name Al-ZAHAA is being shared on social media with false claims and communal twist that it is the 'Aravana Prasadam' sold by Kerala's Sabarimala temple to devotees. The post is widely shared on Twitter, Facebook. Check the links below to know the facts:
The Aravana Payasam is a sweet dish typical to Kerala, offered to deities in temples across the state. The package photo that is viral does not contain 'Travancore Devaswom Board' or 'Saranam Ayyappa', two iconic identifiers of Aravana Prasadam, on its packaging. It must also be noted that the packaging says 'Aravana Payasam' and not 'Aravana Prasadam'
Aravana payasam is a Prasadam (offering to the deity) that is manufactured in the facility adjoining the Sabarimala Temple by the temple authorities that is overseen by the Sabarimala Executive Officer. There is no way any tender can be given to any other organization for manufacturing the Prasadam.
Sunil Arumanoor, Travancore Devaswom Board PRO, said, "Aravana is prepared by the staff of Travancore Devaswom Board. There is a facility for the manufacture of the Prasadam at Sabarimala itself
Website 'Diligencia' based in Ajman, United Arab Emirates, Al Zahaa Sweets LLC is a Private Limited Company that was established in 2020. The organization operates in the Food Products sector.  Aravana Payasam doesn't have any connection with religion, caste, or creed. It is not connected with Lord Ayyappa or Sabarimala. They don't have any contract with any Indian or Kerala company or any board. The company is selling its products in the UAE market only. Aravana refers to 'kattipayasam' (thick payasam).
YouTube video featuring the same Aravana Payasam manufactured by Al ZAHAA uploaded by Silent Springs on October 3rd, 2021 further proves that the product is intended to be sold for overseas Keralites. Youtuber clearly says. that it is made in UAE and as Keralite she loves it.
The Aravana Prasadam can be ordered online using DTDC. Check the photo of the Aravana Prasadam in the screenshot from News Today shared below. The label is "Aravana Prasadam" and on the viral post, with false claims, the label shows "Aravana Payasam". The packaging is different.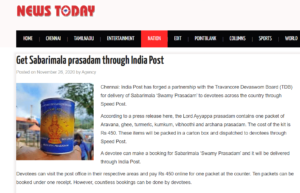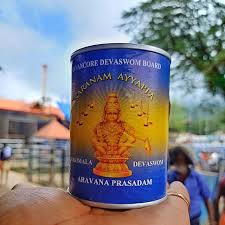 Read more @BoomLive
We ensure that you are updated with the facts. Please Check4spam before you believe and forward any doubtful image, message, or video. Be cautious, be safe.
---
Find all fact-checking articles about news using Nokiye.com
Sabarimala Temple's 'Aravana Prasadam' Is Made By UAE Based Company Al-ZAHAA I Nokiye
---
Post Date: 17 Nov 2021
Post ID: #79407