[SPAM] Indian Muslims Offer Prayer On The road
Photo from Bangladesh is shared with the false claim that Indian Muslims blocked the roads to offer Namaz
Post Information:
The below post has been circulating on social media
Indian Muslims Offer Prayer On The road

Aamir Khan asked not to burst firecrackers on roads

But will he ask not to block roads & offer nam@z?

He will never say it because he knows who are the real intolerants pic.twitter.com/aRqyGfPPmk

— Mahesh Vikram Hegde 🇮🇳 (@mvmeet) November 9, 2021

https://twitter.com/Brijeshyadav945/status/1458433046634397699?ref_src=twsrc%5Etfw%7Ctwcamp%5Etweetembed%7Ctwterm%5E1458433046634397699%7Ctwgr%5E%7Ctwcon%5Es1_&ref_url=https%3A%2F%2Fpublish.twitter.com%2F%3Fquery%3Dhttps3A2F2Ftwitter.com2FBrijeshyadav9452Fstatus2F1458433046634397699widget%3DTweet
Verification: Photo from Dhaka Bangladesh is shared as from Indian 
A photo with a false claim that Indian Muslims blocked the roads to offer Namaz is shared on social media. In fact, the picture is from Dhaka, Bangladesh. The photo with false claims is viral on Facebook and Twitter. Check the links shared below to know the facts:
The photo can be found in an article at Guardian with the caption "Dhaka, Bangladesh
Muslims attend Friday prayers during the holy month of Ramadan outside the Sobhanbag mosque
Photograph: Monirul Alam/EPA.
Image Credits Guardian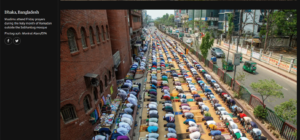 On searching the image on Google we found the photo on Alamy's Website. The description of the photo is "Dhaka, Bangladesh. 02nd Apr 2021. Thousands of Muslims perform Jumma prayer in the streets at the mosque in Dhanmondi Sobhanbag Masjid in Dhaka,"

We ensure that you are updated with the facts. Please Check4spam before you believe and forward any doubtful image, message, or video. Be cautious, be safe.
---
Find all fact-checking articles about news using Nokiye.com
Indian Muslims Offer Prayer On The road I Nokiye
---
Post Date: 18 Nov 2021
Post ID: #79420