[SPAM] वरिष्ठ पत्रकार रविश कुमार ने मुस्लिम भाइयों से भावुक अपील की है।

This is a fake post circulating with wrong claim about Ravish Kumar's emotional appeal to Muslims. Please read more about it in the verification section of this article.
Post Information:
Below post has been circulating on social media.
Ravish Kumar's emotional appeal to Muslims

New Delhi: Recently noted TV anchor Ravish Kumar made an emotional appeal to Muslims during a programme. Following are his golden words.

1. Stop criticizing BJP and RSS.

2. Your opposition is their strength. Anyway except for Jammu and Kashmir neither you have to become chief minister anywhere nor the prime minister.

3. Those who have to grab 'the chair' they themselves will contest with BJP & RSS. Only because of your opposition BJP is creating fear of 18 pc Muslims among Hindus and is succeeding in getting votes of 80 pc Hindus. The director of the entire play is in fact just 3 pc.

4. Give vote in favour of whatever party you like, but don't ever oppose BJP, RSS or Modi.

5. Forget that there is any organisation called RSS.

6. Forget that there is any party called BJP.

7. Forget that there is any leader called Modi

8. If you continue what you have been doing you will be politically made untouchables in few years. Then neither Congress will value you nor JP, SP or BSP.

9. The MIM or Owaisi you are blindly favouring will be allowed to contest as far as BJP is benefiting from them. The day when BJP will feel that their contesting is doing harm to it, from that day MIM will be banned as it was done during the first 30 to 40 years. You just focus on modern technology and education, secure marks through which you can get government jobs without reservation.

10. Before independence, the population of Muslims was 35 pc and they had occupied 35 pc government jobs. There was no reservation system at that time. Those who had reached the place did so on their own ability. Those who give zakat and sadaqah to religious institutions should also give them to institutions working for your education and employment. If there are no such institutions, establish them.

11. Remember! This is a competitive era and you are lagging behind in every field. Don't rely on government aid, do whatever you want on your own.

God will do the rest!

वरिष्ठ पत्रकार #रविश #कुमार ने मुस्लिम भाइयों से भावुक अपील की है।
नई दिल्ली। वरिष्ठ पत्रकार #रविश #कुमार ने मुस्लिम भाइयों से भावुक अपील की है। अपनी अपील में उन्होंने कहा कि आप लोग भाजपा और आरएसएस की आलोचना करना बंद कर दें। आपका विरोध करना ही उनकी ताक़त है। वैसे भी जम्मू-कश्मीर को छोड़कर न तो तुम्हें कहीं का मुख्यमंत्री बनना है और न ही प्रधानमंत्री। जिनको सत्ता लेनी है, वो अपने आप आरएसएस, भाजपा की काट कर लेंगे।
आपके विरोध करने की वजह से ही भाजपा 18 फीसदी मुस्लिमों का भय दिखाकर 80 फीसदी हिन्दुओं का वोट अपने पाले में लाने में सफल रहती है और पूरे खेल के संचालक तो असल में 3 फीसदी ही हैं। उन्होंने कहा कि आपको जिस किसी भी पार्टी को वोट देना है दो, जिसका समर्थन करना है करो पर भूलकर भी भाजपा, आरएसएस और मोदी का विरोध मत करो।
भूल जाओ की आरएसएस नाम का कोई संगठन भी है।
भूल जाओ की भाजपा कोई पार्टी है। भूल जाओ कि मोदी कोई नेता है। आपकी यही दशा रही तो कुछ साल में आप राजनीतिक तौर पर अछूत बना दिए जाओगे, फिर न तो आपको कांग्रेस पूछेगी, न भाजपा, न सपा और न बसपा। जिस मीम और ओवैसी का आप अंध समर्थन कर रहे हो उसको चुनाव में हिस्सा तभी तक लेने दिया जायेगा जब तक की भाजपा को उनके चुनाव लड़ने से फायदा हो रहा है।
जिस दिन भाजपा को लगेगा कि अब इनके चुनाव लड़ने से उसे नुकसान हो रहा है उसी दिन मीम पर पाबंदी लगा दी जायेगी जैसे की पहले 30-40 साल तक पाबन्दी लगी थी। तुम केवल आधुनिक, वैज्ञानिक शिक्षा पर ध्यान दो, इतने अंक लाओ कि बिना आरक्षण के ही तुम सरकारी नौकरियां हासिल कर सको।
आजादी से पहले भारत में मुसलमानों की आबादी 35 फीसदी थी और 35 फीसदी सरकारी नौकरियों पर मुसलमानों का कब्जा था, उस समय यह आरक्षण जैसी कोई व्यवस्था भी नही थी। जो उस मुकाम तक पहुंचते थे वो अपनी काबिलियत के दम पर ही पहुंचते थे और जो आप दीनी इदारों में जकात, खैरात का पैसा देते हैं बेहतर होगा कि ऐसे इदारों में भी जकात, खैरात का पैसा दो जो आपकी शिक्षा और रोजगार के लिए काम करे। यदि ऐसे इदारे नही हैं तो बनाइये।
याद रखिये इस समय कम्पटीशन का जमाना है और आप हर क्षेत्र में पिछड़ रहे हैं, किसी भी तरह की सरकारी मदद का भरोसा छोड़ दीजिये। जो करना है आप अपने दम पर कीजिये। बाकी ख़ुदा मालिक है।
Verification:  There is no such emotional appeal to Muslims by Ravish Kumar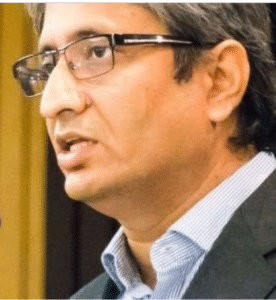 Ravish Kumar is an Indian TV anchor, writer, journalist and media personality who covers topics pertaining to Indian politics and society. Read more
The video on INDIAN INFOTAINMENT was published on 30 Mar 2018 with the same content that is going viral now again. The same message was also found on Follow For All News wordpress on 27 May 2019. There Is no truth in this post. Ravish Kumar himself cleared this fake news on his facebook account that we are sharing with you below. Please go through it to know the fact.
https://www.facebook.com/RavishKaPage/posts/800144610183688
There are many such fake messages and videos are created to mislead people on he name of religion and culture. The topics are such, that any one who is bit sensitive, falls in trap. These kind of false messages spread very fast and provoke others. Best is to fact check about such hoax before you believe and forward them. Think if it's worth sharing before you yourself know the fact. Be sure about what you share with your family and friends. Few messages and posts keep circulating with some added content year by year and they are not always true. Little of awareness to find the fact can save you and all from the menace of fake news.
---
We ensure that you are updated with the facts. Please Check4spam before forwarding and believing any doubtful image, message or video. Be cautious, be safe.
---
Find all fact checking articles about news using Nokiye.com
Ravish Kumar's emotional appeal to Muslims  | Nokiye
---
Post Date: 3 June 2019
Post ID: #726300