[SPAM] Racist Out There Showing Their Entire Evil Bitch Azzez

The image of women wearing T-shirts with edited text is shared with false claims on social media
Post Information:
The below post has been circulating on social media.
Racist Out There Showing Their Entire Evil Bitch Azzez

This Is AmeriKKKa
Proud Racist Bitches
Don't oversleep on any election day. The POTUS has normalized racism, and racists are out of the closet. Know your enemy!
#VoteBlue2020

Check out these women. So obviously proud of themselves for being #racist. I certanly agree with the bitch part. #Eeew https://t.co/QC0NmfN6EU

— TinHatFoiler 🇺🇸 🇺🇦 (@eusocialite) September 15, 2019

https://twitter.com/angelaw676/status/1171859302438625288
Verification: The slogan on the T-Shirts is edited digitally
This is not an actual photograph of a group of women wearing "I'm a Racist Bitch" T-shirts but a digitally photo-shopped image. The slogan in the original photograph is "I'm a Trump Girl."
This photograph was taken during a Trump rally in Greenville, North Carolina. Gerri McDaniel, the director of Trump's campaign efforts in South Carolina. Check the following tweet to know the fact:
Women for Trump were on the move in Greenville, NC at the Trump Rally. So much support it was hard to not be excited.#WomanforTrump @realDonaldTrump @parscale @dbongino @seanhannity @thehill @IvankaTrump pic.twitter.com/rpsebv60Ad

— Gerri McDaniel (@GeekGirl2u) July 18, 2019
Some  woman can be seen wearing the T-shirts with the same slogan in the link
Some women with the same T-shirts are also visible here in this link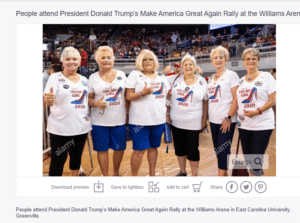 A T-Shirt with the slogan I'm A Racist Bitch 2020 is available on the link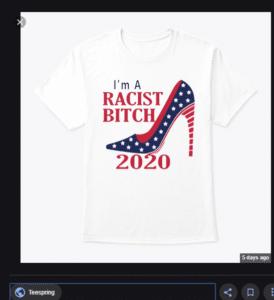 The images are digitally altered and are shared with malicious agendas by some mischievous people. Please don't just believe such a post. Verify with any fact-checking sites or check the related content or image on google to know more about it before you forward the information further.
We ensure that you are updated with the facts. Please Check4spam before forwarding and believing any doubtful image, message, or video. Be cautious, be safe.
---
Find all fact-checking articles about news using Nokiye.com
"I'm A Racist Bitch" Slogan On T-Shirts  I Nokiye
---
Post Date: 17 Sep 2019
Post ID: #73757