[SPAM] Allah Ki Kudrat Akhirkar America Ne Mana Islam Hi Hai Superpower
Morphed image of Trump with Islamic Book is shared with a false caption that says America accepts Islam as a superpower
Post Information:
Below post has been circulating on social media.
Allah Ki Kudrat Akhirkar America Ne Mana Islam Hi Hai Super Power
Verification: Morphed image of Trump holding Islamic Book is shared with false captions
Morphed image of Trump with Islamic Book is shared with false captions. On search, the image of Trump with the same dress and same facial expressions was found on many sites. The image is morphed to make it misleading. On the left, the shield is the same. But on the right side, image is digitally added that says "ISLAM THE FUTURE OF AMERICA." Check the links below. The articles in the links are shared in Feb 2017. The old image is used to mislead people with malicious content.
A quick guide to every executive action Trump has taken: Read more
President Trump's Muslim ban excludes countries linked to his sprawling business empire: Read more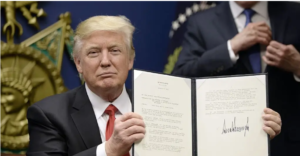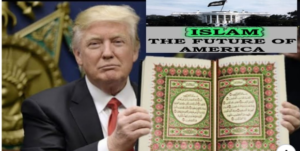 We ensure that you are updated with the facts. Please Check4spam before you believe and forward any doubtful image, message or video. Be cautious, be safe.
---
Find all fact-checking articles about news using Nokiye.com
Allah Ki Kudrat Akhirkar America Ne Mana Islam Hi Hai Super Power I Nokiye
---
Post Date: 17 Apr 2020
Post ID: #76182