[SPAM]
Priest From Tirupati Balaji And His Three Daughters Loaded With Gold
This is a fake post with false claim on unrelated images of man and women loaded with gold. Please read more about it in the verification section of this article.
Post Information:
Below post has been circulating on social media.
https://www.facebook.com/photo.php?fbid=619121221779597&set=pcb.619121365112916&type=3&theater

इधर राममंदिर
उधर पद्मावती,
इधर मीडिया
उधर सरकार,

पर भूख से होती
मौत पर….
ना कोई इधर
ना कोई उधर ।

शुभ रात्रि जी🙏🌷

— roomi 🇮🇳 #इदन्नमम् 🔥 (@Gr8roomi) November 26, 2017

https://twitter.com/priyagupta999/status/1012181952139366401
Verification: The man is not the priest from Tirupati
The post circulating is with fake captions. Images from different places are used to create false post. In the link below you can see the same images as shared in viral post. The person loaded with so much gold in the image is Amjad Saeed (also known as Gold Man / KaKa 222), a businessman in Rawalpindi.
See more about Gold Man / Kaka 222 on Facebook: Read more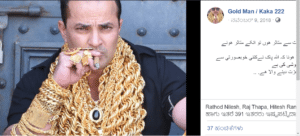 The One & Only Gold Man of Pakistan known as "Gold Man / KaKa 222"
Gold Man /KaKa 222
Check the following link and screenshort to know the fact. Same image of women with gold was also shared earlier with different captions. You can see the date and year of shared youtube post. An old image is being used to make false post. Also check at the back, you can see two men sitting in the same position in youtube video as well as in the image shared with fake caption.
Bihar Rowdy Family's Lavish Wedding Photos Go Viral On Social Media | Teenmaar News | V6 News
922,845 views•Published on 27 May 2016: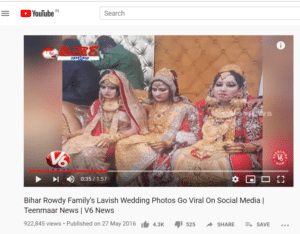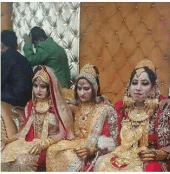 There was news about priest stealing jewels from Tirupati temple that you can check in the links below. This news must have been used to create a fake post by mixing images that are absolutely not related to the caption.
Tirupati priest steals temple jewels to marry daughters:
In a shocking and first such incident, a head priest of Tirumala Tirupati Devasthanams has confessed to stealing ornaments from the temple to marry his daughters. Read more
Tirupati priest mortgages temple jewellery, arrested: Read More
---
We ensure that you are updated with the facts. Please Check4spam before forwarding and believing any doubtful image, message or video. Be cautious, be safe.
---
Find all fact checking articles about news using Nokiye.com
Priest From Tirupati Balaji And His Three Daughters Loaded With Gold  I Nokiye
---
Post Date: 24 Sep 2019
Post ID: #73853