[SPAM] An Octopus Playing With A Ball

Video of an Octopus playing with ball is circulating with false claim. Please read more about it in verification section of this article.
Post Information:
Below post has been circulating on social media.
An Octopus Playing With A Ball

https://twitter.com/Havenlust/status/1141133706922516480
Verification: This is 3DFX simulation made by Thomas Marque
The video is not real. This is digitally created by Thomas Marque. Please check the link below: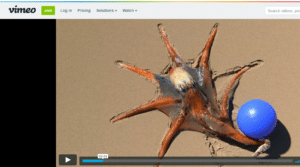 Following comments is by Thomas Marque on his own post at Vimeo
thomas marqué1 year ago
1-i create an attribute moving along the tentacles with an offset , so eight areas , that's the "muscles".2-On the floor (or walls or , here , the rope ) i modify the normals : where the octopus want to go . 3- transfert the normals to the tentacles attribute as a velocity (sopsolver) .
Know more about 3DFX:
---
We ensure that you are updated with the facts. Please Check4spam before forwarding and believing any doubtful image, message or video. Be cautious, be safe.
---
Find all fact checking articles about news using Nokiye.com
An Octopus Playing With A Ball  I Nokiye
---
Post Date: 25 Sep 2019
Post ID: #73879