[SPAM] Only Islamic Prayers Were Conducted During The Inauguration Of A Youth Congress Office In Karnataka
Pictures of Islamic prayers from the Congress office inauguration in Karnataka got viral with misleading claims
Post Information:
The below post has been circulating on social media
Only Islamic Prayers Were Conducted During The Inauguration Of A Youth Congress Office In Karnataka
Verification: During inauguration of Youth Congress Office in Karnataka, Islamic prayers as well as Hawan was conducted 
Pictures of Islamic prayers from the Congress office inauguration in Karnataka got viral with misleading claims. Mohammed Haris Nalapad takes charge as Karnataka Youth Congress Chief. Along with Islamic prayers, Mohammed  Haris also performed Hawan after taking charge as KPYCC ( Karnataka Pradesh Youth Congress President) president in Bangalore on Monday i.e. 31st Jan 2022. A photo from the event is being shared on social media with false claim that only Islamic prayers were conducted during the inauguration of a Youth Congress office in Karnataka. Check the links shared below to know the facts:
ಕಾಂಗ್ರೆಸ್ ಭವನದಲ್ಲಿನ ಕರ್ನಾಟಕ ಪ್ರದೇಶ ಯುವ ಕಾಂಗ್ರೆಸ್‌ನ ಕಚೇರಿಯಲ್ಲಿ ಇಂದು ಪೂಜೆ ಹಾಗೂ ಪ್ರಾರ್ಥನೆ ಸಲ್ಲಿಸಲಾಯಿತು. ಈ ವೇಳೆ ಶಾಸಕರಾದ ಶ್ರೀ @mlanaharis ಹಾಗೂ ಹಿರಿಯ ನಾಯಕರಾದ ನನ್ನ ತಾತ ಶ್ರೀ ಎನ್‌.ಎ. ಮೊಹಮ್ಮದ್ ರವರು ಸೇರಿದಂತೆ ಹಲವು ಕಾಂಗ್ರೆಸ್ ನಾಯಕರು ಉಪಸ್ಥಿತರಿದ್ದರು. pic.twitter.com/5Qkjk38q9Z

— Mohammed Haris Nalapad (@nalapad) January 31, 2022
The same viral photo along with other photos can be seen on Facebook account of Mohammed Haris Nalapad. Hawan photo is also shared in the post.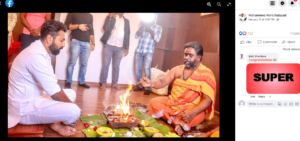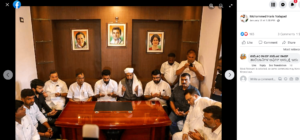 Official handles also shared the photos:
ಕಾಂಗ್ರೆಸ್ ಭವನದಲ್ಲಿನ ಕರ್ನಾಟಕ ಪ್ರದೇಶ ಯುವ ಕಾಂಗ್ರೆಸ್‌ನ ಕಚೇರಿಯಲ್ಲಿ ಇಂದು ನೂತನ ರಾಜ್ಯಾಧ್ಯಕ್ಷರಾದ @nalapad ಅವರು ಪೂಜೆ ಹಾಗೂ ಪ್ರಾರ್ಥನೆ ಸಲ್ಲಿಸಿದರು. ಈ ವೇಳೆ ಶಾಸಕರಾದ ಶ್ರೀ @mlanaharis ಹಾಗೂ ಹಿರಿಯ ನಾಯಕರಾದ ಶ್ರೀ ಎನ್‌.ಎ. ಮೊಹಮ್ಮದ್ ರವರು ಸೇರಿದಂತೆ ಹಲವು ಕಾಂಗ್ರೆಸ್ ನಾಯಕರು ಉಪಸ್ಥಿತರಿದ್ದರು. pic.twitter.com/u3TLtstGbk

— IYC Karnataka (@IYCKarnataka) January 31, 2022
MLA NA Haris voice for Shanthinagar Nagar posted the event video on YouTube.
We ensure that you are updated with the facts. Please Check4spam before you believe and forward any doubtful image, message, or video. Be cautious, be safe.
---
Find all fact-checking articles about news using Nokiye.com
Only Islamic Prayers Were Conducted During The Inauguration Of A Youth Congress Office In Karnataka I Nokiye
---
Post Date: 2 Feb 2022
Post ID: #79715