[SPAM] NTUC Jasmine Fragrant Rice Made Of Plastic

This post that claims that NTUC Jasmine Fragrant Rice Made of Plastic circulating on social media is fake. Please find more details at the verification section of this article.
Post Information:
Below post has been circulating on social media.
NTUC Jasmine Fragrant Rice Made of Plastic
Verification: NTUC Jasmine Fragrant Rice are not made of Plastic
Rice is regular food for many and this kind of hoax spins the minds. These kind of fake messages about many products keep occupying the social media space just for nothing. They just disturb others and and we keep wasting our time and spread it without knowing the truth about it. Just a little thought of verifying such fake messages can save us from getting trapped to the falsenet.
This is fake news about Rice from Supermarket chain FairPrice (Online Grocery Shopping and Delivery in Singapore). Sometimes it's the new or different packaging to the same product, we have been buying since years, that put us in doubt. Shopkeepers have to undergo so much loss due to such wrong spread about their products. It is malicious false information. Supermarket chain FairPrice reported this to the police and addressing a post on social media that contained the fake claim, FairPrice said its rice has passed safety checks by the authorities.
"We would like to advise the public not to further circulate this false information which may cause unnecessary public alarm," said its corporate communications director Jonas Kor.  Read More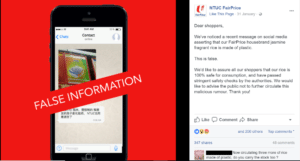 We ensure that you are updated with the facts. Please Check4spam before forwarding and believing any doubtful image, message or video. Be cautious, be safe.
---
Find all fact checking articles about news using Nokiye.com
NTUC Jasmine Fragrant Plastic Rice | Nokiye.com
---
Post Date: 26 Dec 2018
Post ID: #70604
Thank You for visiting Check4Spam. Please write a comment at this article if you like our service.