[SPAM] Notice Issued By Crime Prevention Council Of India
This post is circulating on social media with wrong claims as notice issued by Crime prevention council of India. Please find more details in this article.
Post Information:
Below post has been circulating on social media.

Verification: This is a fake notice
The document circulating on social media claiming not to post anything regarding elections on any social media is fake. This was issued without any consultation with other senior member of the same organization on the NGOs letterhead. Below is the fake notice;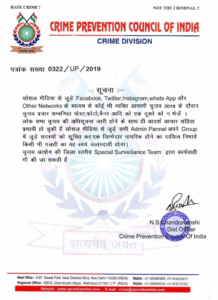 CPSC cannot take such a decision of dictating what to share and what not to share on social media. It is not district officer of an NGO to issue notices announcing decisions. Decisions can only be taken by the senior most authority as told by Crime Prevention Council of India's chairperson Dr SK Pandey to "The Quint"
Crime Prevention Council Of India: Read More
When you check on News And Event category on the link shared above, you can see the below shared image that clarifies that the notice issued earlier that is viral on whatsapp and other social platforms is not true. Check this link, you can see notice issued by Crime Prevention Council Of India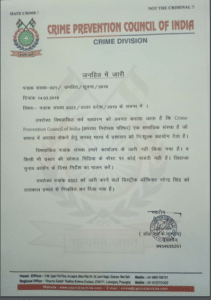 Please dont just believe everything you recieve. Read more @ Altnews, The Quint
We ensure that you are updated with the facts. Please Check4spam before forwarding and believing any doubtful image, message or video. Be cautious, be safe.
---
Find all fact checking articles about news using  Nokiye.com
Crime Prevention Council Of India | Nokiye
---
Post Date: 19 Mar 2019
Post ID: #71767