[SPAM] Nirbhaya, Helpline For Women Safety

Nirbhaya helpline number (919833312222) for women safety does not exist anymore. Please read more about it in the verification section of this article.
Post Information:
Below post has been circulating on social media.

Verification: Nirbhaya helpline number (919833312222) for women safety does not exist anymore.
Women safety is a main issue nowadays. Every day we can see many cases of rape and women harassment at various places. Nirbhaya case was the one that no one can ever forget. That was a shock to each girl when it comes to safety and security while going out for studies or employment or with friends and family. With the sad incidences ( Veterinary Doctor' case ) happening all around, people are scared. So whatever safety measures they can, they try to take and also share with their loved ones. Sometimes in emotions, people start sharing information that is not true. Fake and old messages also start making rounds. Check4Spam received a WhatsApp query on this information.
Nirbhaya helpline number ( +919833312222) that was launched in 2015, has been officially closed with effect from 1st Feb 2018.
Please read the links shared below to know the facts:
The number was introduced in 2015 as shared in the link below:
Real-time railway helpline for women launched in city: Read more @Mumbai Mirror
With effect from 1 February 2018, Nirbhaya helpline number (91933312222) has been officially closed.

According to Boom Live:
BOOM also spoke to a senior Mumbai police officer who said that the number 9833312222 is no longer active and said that in case of an emergency, one can dial 100 and it will connect to the control room of the local police. "This applies to all states and cities. Dialling 100 will connect to the control room plus each city and state has its own helpline number which should be saved and used for emergency situations," he said
The following numbers can be seen on Mumbai Railway Police Compassionate: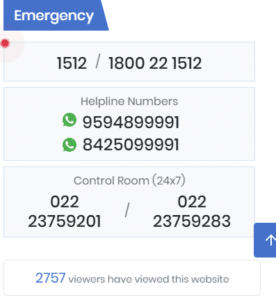 Read more about what are the service Maharashtra Police provides for citizens @Maharashtra Police -Services for citizens
Steps taken by Govt. of Maharashtra to ensure security of women
• PAW (Prevention of Atrocities on Women) Cell:

Maharashtra Govt. (Home department) vide its G.R.No.PPA 1394/ 5/Pol-8, dtd.29.09.1995, has established a PAW (Prevention of Atrocities on Women) Cell at the Maharashtra State Police Headquarters Mumbai initially. It is working presently at State CID Crime office, Sangambridge, Pune. The cell is headed by the officer of the rank of Spl. Inspector General of Police.

• Mahila Police Kaksha (Women Help Desk):

In maharashtra prevention, detection & Investigation of crime against women is dealt with by the jurisdictional police stations. The Director General of Police, Maharashtra State, Mumbai has issued circulars to created Mahila Police Kaksha in each police Station, to handle the cases regarding crime against women. As per availability Women Police Officer & Police Constables are appointed in these cells. 975 such cells are established till date.

• Mahila Suraksha Samittee:

These committees are established in all Headquarters of all 45 Police Units and all Police Stations. These committees are helping for legal assistance to the women in crises with the help of police intervention. The cell includes Women Doctors, Women Advocates, Women Professor and Social Worker etc.

• Social Security Cells:

The social security cells are functioning in the Police Headquarters. These units investigate the cases related to crime against women. 33 such cells are established.

• Special Counseling Centers (SCC):

In Maharashtra up till now 90 SCCs are functioning in the premises of the Police Stations. All the facilities i.e. separate office, toilet, furniture, telephone, etc are provided to them by Police Dept. These centers work in co–ordination with Woman and Child Welfare Dept. as per the directions of Hon. High Court. These centers help the women in crises especially family disputes. Govt. has approved 54 new cells.

• Help centers at S.T. stand:

To prevent immoral trafficking of women and children 330 help centers are established at S.T. stands as per the recommendation of Justice Dharmadhikari Samittee.

• Measures taken to Preventive female Foeticide:

For the effective implementation of 1) Pre – Conception and Pre – Natal Diagnostic Techniques (Prohibition of Sex Selection) Act – 1994 (PCPNDT), 2)Medical Termination of Pregnancy Act – 1971 (MTP) the Police Officer of the rank of DySP/ ACP has been appointed as a nodal officer.

• Help Line:

To help the women in distress the Toll-free Help Line No.103 is started in Mumbai, Thane & Navi Mumbai Police Units & rest of Maharashtra Toll-free Help Line No.1091 is used.

• Special Juvenile Police Unit and Child Welfare Officer:

In all District of Maharashtra Child Welfare Committee & Juvenile Justice Boards are formed to protect & care of children in distress. Special Juvenile Police Unit is formed in all 45 Police Units and one Police Officer is appointed as Child Welfare Officer in 1028 Police Stations.

• Protection of Children from Sexual Offence Act 2012:

To registered the cases under this act training has been given to Police officers and men. 152 Training workshops have been arranged in all Police Units and 1705 Officers & 4548 men have been trained for implementing this law effectively.

• Domestic Violence Act 2005:

To protect the women from domestic violence, this act has come in force. This act is implemented by the Protection Officers appointed by Women and Child Welfare Dept.

• Special & Fast Track Courts:

For the speedy disposals of cases of crimes against women; Special Courts at Ahmednagar, Akola, Amaravati, Aurangabad, Buldhana, Beed, Jalgaon, Nagpur, Yawatmal, Thane, Pune & Kolhapur are in operation along with special court for Cases of Immoral trafficking at Mumbai. 25 Fast Track Courts are being proposed for disposal of criminal cases relating to the atrocities on women and mentally handicapped girls.

• Preventive action for Dowry Death:

Government of Maharashtra resolution No.DPA-1083/80519/CA-3, Dtd. 29/1/1985 the District Vigilance Cells have been formed in each district of Maharashtra State. The District collector is the president of this cell & the Superintendent of Police, Social Welfare Officer, advocate, women medical officer, principal of local college, social worker and member of women organization are working in this cell. Meeting of this cell is organized by the District collector once in a three months.

• Complaint Committees at work places:

As per the Vishakha Guidelines of Hon. Supreme Court, New Delhi these committees are established in all 45 Police Units head quarters and State CID office, Pune. These committees are tackling the complaints related to sexual harassment at work places of women police officers / staff and other ministerial staff working in police offices.

• Sensitivity of Police Officers and Men towards the Complaints of Women:

Curriculum of basic training programme of Police Officers at Maharashtra Police Academy, Nashik includes laws related to crime against women & children and gender issues.

• Justice Dharmadhikari Samittee :

To prevent crime against women Govt. has formed one committee under the chairmanship of retired Justice Shri. Chandrashekhar Dharmadhikari. This committee submitted three interim reports to Govt. the suggestions from first two interim reports are being implemented by Police Dept. and implementation the suggestion from third interim report is under consideration.

• Anti Human Trafficking:

The Maharashtra State has established Anti Human Trafficking Cell on 31/03/2008 under Crime Investigation Department, M.S.Pune to have effective and prompt and speedy action to solve the various problems of Anti Human Trafficking. The Special Inspector General of Police(PAW)CID,M.S.Pune has been nominated as a nodal officer for the State of Maharashtra.

12 Anti-Human Trafficking units are established in the state of Maharashtra. These units are functioning in Mumbai, Thane city, Thane Rural, Pune, Sangli, Nagpur, Ahamednagar, Navi Mumbai, Solapur City, Beed, Kolhapur and Yavatmal. They are all fully operational. State Nodal Officer Maharashtra has attached two NGOs and officer from Women and Child Dept. to the each AHTUs, so that AHTU become a wholesome unit dedicated to the cause of Anti Human Trafficking. They have been equipped with infrastructure and are taking a lead in conducting rescue operations. Various rescue operations have been conducted and victims have been rescued and traffickers have been arrested from the time these units have been established. Police Inspectors working in the Social Service Branch in the Commissionerate and District Crime Branch of Maharashtra Police have been notified as 'Special Police Officer' for the purpose of Anti Human Trafficking.

Regular training workshops have been held for police officers, NGOs and prosecutors to sensitize them regarding anti human trafficking and its seriousness and impact on society, to develop victim friendly approach and to enhance their investigative skills.
Read more @ Boom Live, @Alt news
The same message is in circulation, quoting Bangalore City Police. BCP has clarified it on its twitter account. Please check the link below:
#Fake message is floating on Whatsapp regarding this number as BCP's Women Helpline. The number does not belong to BCP People are requested not to believe or share this fake message. Stringent action will be taken against those who create and spread fake messages on social media pic.twitter.com/nDedjqa0RG

— ಬೆಂಗಳೂರು ನಗರ ಪೊಲೀಸ್‌ BengaluruCityPolice (@BlrCityPolice) December 3, 2019
We ensure that you are updated with the facts. Please Check4spam before you believe and forward any doubtful image, message or video. Be cautious, be safe.
---
Find all fact checking articles about news using Nokiye.com
+919833312222 I Nokiye
---
Post Date: 2 Dec 2019
Post ID: #74541