[SPAM] New Stamps Released By The PM Today. Jai Shri Ram
The image of Ramayan Themed Stamps is viral on social media with false claims of recently issued stamps by PM Modi
Post Information:
Below post has been circulating on social media.
New Stamps Released By The PM Today. Jai Shri Ram

New stamps released by the PM today.
Jai Shri Ram pic.twitter.com/MJDMSUTPWS

— KavitaM 🇮🇳 (@Kavita_M57) July 24, 2020
Verification: No, Ramayana Stamps were not issued ahead of Bhumi Pujan in Ayodhya
The image of Ramayana Themed Stamps is viral on social media with false claims of recently issued stamps by PM Modi. They were released in 2017.
Set of Ramayana-themed stamps were not Issued ahead of Bhumi Pujan in Ayodhya. They had been released in 2017. Check the links below to know the fact:
India Post issued a set of 11 commemorative postage stamps on "RAMAYANA" on 22.09.2017- 10 stamps are of denominations Rs 5 and 1 stamp is of denomination Rs15″: Read more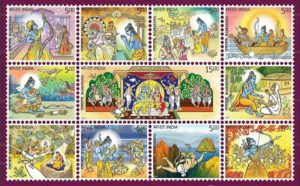 Struggle For Hindu Existence published an article on 23rd Sep 2017 with the caption "India Post releases Ramayana stamp series." The same stamp image can be seen in this article. PM Modi said: "Tulsi Mandir best place to release Ramayana stamp.": Read more
We ensure that you are updated with the facts. Please Check4spam before you believe and forward any doubtful image, message or video. Be cautious, be safe.
---
Find all fact-checking articles about news using Nokiye.com
New Stamps Released By The PM Today. Jai Shri Ram  I Nokiye
---
Post Date: 30 July 2020
Post ID: #77428