[SPAM] MVA (Maha Vikas Aghadi) Govt Started New Bus to 'Appease Osmanabad Muslims'
The video of a decorated bus with flowers and a flag is being shared with false claims that the MVA govt started a new bus to appease Osmanabad Muslim
Post Information:
The below post has been circulating on social media
MVA (Maha Vikas Aghadi) Govt Started New Bus to Appease Osmanabad Muslims

https://twitter.com/nandiniidnani69/status/1527338125760299009?ref_src=twsrc%5Etfw%7Ctwcamp%5Etweetembed%7Ctwterm%5E1527338125760299009%7Ctwgr%5E%7Ctwcon%5Es1_&ref_url=https%3A%2F%2Fpublish.twitter.com%2F%3Fquery%3Dhttps3A2F2Ftwitter.com2Fnandiniidnani692Fstatus2F1527338125760299009widget%3DTweet
Verification: No, Maharashtra's MVA govt didn't start a new bus to Appease Osmanabad Muslims and the flag on the bus is an Islamic flag and not Pakistan's flag
The video of a decorated bus with flowers and a flag is being shared with false claims that the MVA (Maha Vikas Aghadi) govt started a new bus to 'Appease Osmanabad Muslims'. The claim is "Thackeray Govt in alliance w NCP Congress has gone to the heights of appeasement. In Osmanabad Bus Depot. A New Bus has been decorated in the name of Nabi and Pakistan Flag ..singing the praise of Allah, Can you imagine that is happening in Maharashtra!!!." This is not true. Check the links shared below to know the facts:
The flag on the bus is an Islamic flag and not Pakistan's flag. The bus decoration was an ancient custom and isn't related to any political party. The bus was decorated to celebrate Urs, an annual event to mark the death anniversary of a Sufi saint. The same kind of decoration can be seen on a Facebook post by Nagesh Surtur who also wrote about the reason behind the bus decoration. He wrote, "No, there is Urs in our Osmanabad, in that Ursa there is sandal procession of ST, this is the bus decoration of it." (Translated to English). Check the screenshot from the Facebook link:
Twitter users also confirmed that the flag was Islamic and not Pakistan's, in reply to the tweet with a false claim. Twitter user replied "Madam I do not wish to contradict you, but this flag is the FLAG OF ISLAM, as we Hindus have our BHAGWA flag. So this is NOT A PAKISTAN FLAG. Sorry, but I thought I will just inform you."
Check the difference between Pakistan Flag and the Islamic Flag: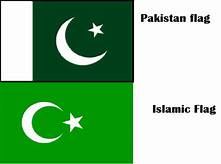 Speaking to The Quint, Osmanabad Additional Superintendent of Police (ASP), Navneet Kawat, said that the custom has been followed for many years and has nothing to do with any political party or leader.
Read more @TheQuint
We ensure that you are updated with the facts. Please Check4spam before you believe and forward any doubtful image, message, or video. Be cautious, be safe.
---
Find all fact-checking articles about news using Nokiye.com
MVA (Maha Vikas Aghadi) Govt Started New Bus to 'Appease Osmanabad Muslims' I Nokiye
---
Post Date: 23 May 2022
Post ID: #80231