[SPAM] Bridge Collapse In Flood-Hit Assam
An old video of bridge collapses in Indonesia is shared with the claim that the video is from  Assam
Post Information:
The below post has been circulating on social media
Bridge Collapse In Flood-Hit Assam

Bridge Collapse In Flood-Hit Assam. pic.twitter.com/xH3s0ahG9Thttps://t.co/4tfkUPesPC

— SEEMA MEENA🐦 (@MEENA_SHWETA_) May 18, 2022

https://youtu.be/MdCVGxH2BqI
Verification: The video of the bridge collapsing in flood, is from Indonesia 
An old video from Indonesia is being shared with the false claim that it shows a bridge collapse in Assam due to floods. Visuals are shared with the claim that the video shows an iron bridge that collapsed in Assam due to the flood. The viral post can be seen on Twitter, here, here, and Facebook with the claim ".See this flood In Assam .country India …How water in one mint broken the bridge "
These visuals were aired by several news organizations, including Hindi news channel Aaj Tak,  TV9, Asianet News, and news portals News NCR. The visuals and video are also shared with other media channels. Check the screenshots shared below from the media: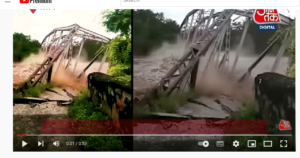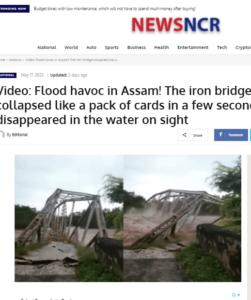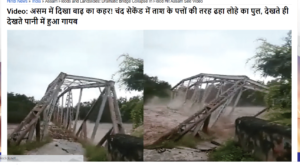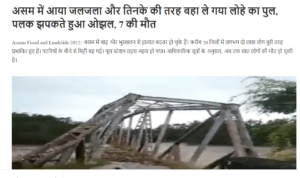 In fact, the video is from 2021 when an old bridge collapsed in Indonesia following flash floods. An old bridge had collapsed in East Sumba Regency in East Nusa Tenggara Province of Indonesia in 2021. The story was also published by other Indonesia-based media outlets namely 'Tribun News Wiki.com', 'Suarajogja', 'Sukabumi Update' and 'Indo Zone' in April 2021. Check the links shared below to know the fact:
The video can be seen on the Youtube channel TribunNews on 5th April 2021:
The video can be seen in the article published on Pos-Kupang.com with the cation "Old Bridge in Kambaniru, East Sumba Collapses" on April 4, 2021.
Below is the screenshot from the original news video shared by TribunNews Youtube on 5th April 2021: The same video is being used and shared with false captions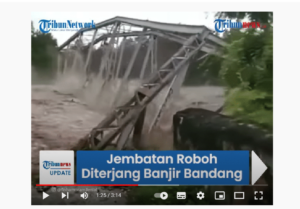 We ensure that you are updated with the facts. Please Check4spam before you believe and forward any doubtful image, message, or video. Be cautious, be safe.
---
Find all fact-checking articles about news using Nokiye.com
Bridge Collapse In Flood-Hit Assam I Nokiye
---
Post Date: 19 May 2022
Post ID: #80219