[SPAM] Modi Worshipping Xi Jinping

Morphed image of PM Modi with Xi Jinping is shared with false claims of Modi worshipping him on social media
Post Information:
Below post has been circulating on social media.
Modi Worshipping Xi Jinping

China got courage to intrude after this ! #ModiSurrendersToChina pic.twitter.com/YS74edkbU4

— Reshma Alam (@reshma_alamD) June 20, 2020

https://twitter.com/GoSlowplz/status/1274320436243894272
Verification: The real image of PM Modi greeting Mayor of Tumkur in 2014 is morphed and shared with false claims
Morphed image of PM Modi with Xi Jinping is shared with false claims of Modi worshipping him on social media.
The picture of Prime Minister Narendra Modi bowing in front of Xi Jinping is an edited picture that is from the year 2014. That time many stories were spread regarding this photo. It was said that PM Modi was bowing down in front of businessman Gautam Adani's wife in the picture. The image is circulating again with wrong captions about PM Modi. PM Narendra Modi in the image is greeting Ms Geetha Rudresh, Mayor of Tumkur City Corporation, Karnataka (Sept 24, 2014).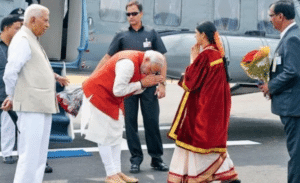 Read more @ BoomLive
We ensure that you are updated with the facts. Please Check4spam before you believe and forward any doubtful image, message or video. Be cautious, be safe.
---
Find all fact-checking articles about news using Nokiye.com
 Modi Worshipping Xi Jinping  I Nokiye
---
Post Date:  22 June 2020
Post ID: #77094