[SPAM] Light, Camera, Action, नौटंकी से पहले की गई सफाई की तस्वीर

This is a fake post with false claim on irrelevant images about plogging by PM Modi. Please read more about it in the verification section of this article.
Post Information:
Below post has been circulating on social media.
Light, Camera, Action, नौटंकी से पहले की गई सफाई की तस्वीर

https://twitter.com/SSaxenam/status/1183262610793357313

https://twitter.com/MunishKirpal/status/1183421139390849024/photo/1

Jai Shree Ram! pic.twitter.com/tGrYcdxOXE

— Karti P Chidambaram (@KartiPC) October 12, 2019

https://twitter.com/i_theindian/status/1183040732673626113
Verification: Irrelevant Images are shared regarding plogging at beach in Mamallapuram 
                                           SAVE ENVIRONMENT,SPREAD AWARENESS, DO YOUR BIT
PM Modi shared his feelings in his poetry after he visited Mamallapuram beach. Very beautifully he has explained his thoughts about the significance of sea in our lives.
कल महाबलीपुरम में सवेरे तट पर टहलते-टहलते सागर से संवाद करने में खो गया।

ये संवाद मेरा भाव-विश्व है।

इस संवाद भाव को शब्दबद्ध करके आपसे साझा कर रहा हूं- pic.twitter.com/JKjCAcClws

— Narendra Modi (@narendramodi) October 13, 2019
While PM made efforts to cleanliness awareness and sharing his thoughts, the post with wrong claims on unrelated images is circulating on social media conveying that the whole act was staged. Few images does not have any  connection to PM efforts to clean beach in Mammallapuram. Images are from different years and places. Instead of making these kind of fake posts, we must appreciate and learn from this act of PM Modi as this is the need of present time to keep cleanliness in the environment not only in our own houses, but the places that are treasures of our country. Each single person can make a big difference to this. Stop being sarcastic and put a little effort towards the cause of saving environment. Ultimately we help ourselves only by doing so. As citizens and as human that's our duty to maintain cleanliness wherever we are, as it is for our own good as well as it contributes towards the precious environment we live in. We all need healthy and clean environment weather its around us or in our minds. So please keep both the places clean and healthy, environment as well as minds. It will save us.
Please watch the efforts put in by our own PM Modi in the link below.
Plogging at a beach in Mamallapuram this morning. It lasted for over 30 minutes.

Also handed over my 'collection' to Jeyaraj, who is a part of the hotel staff.

Let us ensure our public places are clean and tidy!

Let us also ensure we remain fit and healthy. pic.twitter.com/qBHLTxtM9y

— Narendra Modi (@narendramodi) October 12, 2019
Kartik P Chidambaram tweeted again and clarified in a separate tweet that he was wrong in his choice of one photo. Check the tweet shared below:
I am very glad that @AltNews has picked up my tweet. I am wrong in my choice of one photo. But I never overtly suggested that that the pictures were connected. But that's the obvious inference. But where is @AltNews when the @dir_ed claims I have "global undeclared properties" https://t.co/87Onf6MwQ3

— Karti P Chidambaram (@KartiPC) October 13, 2019
1st Image:
Viral: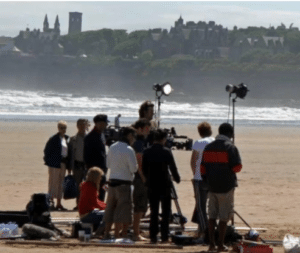 Fact:
Please go through the article shared by India Today (AWFA),
The place is West Sands beach, Fife, Scotland.
AFWA contacted Julie Craik for more details on the viral image. Craik confirmed that this photograph was taken by her around 2005. She wrote back through Linkedin, this image was a TV production crew in St Andrews Scotland UK taken by me for TayScreen which I run. It was around 2005.
Institute for Capitalizing on Creativity: Read more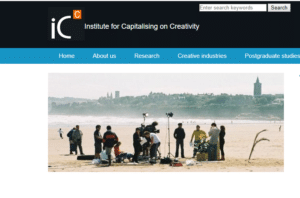 Please check the West Sand Beach Fife Scotland images on google. You can see the buildings in background  from different angles.
2nd Image:
Viral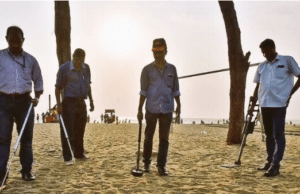 Fact:
BJP gears up for a show of strength ahead of Modi visit: Read more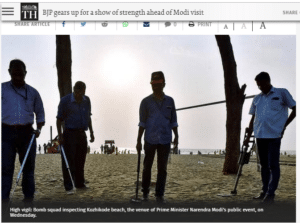 Images are not related to each other and thus the post is not true.
It is encouraging for some people like Justice Challa Kodandaram to take initiative after PM Modi efforts of cleanliness.
A senior judge of Telangana high court Justice Challa Kodandaram undertook the same drive in the court premises on Friday evening.
"Jai Swachch Bharat"
Read more @ hindustantimes
Lets know more about PLOGGING:
Plogging is a combination of jogging with picking up litter (Swedish: plocka upp),(Plocka upp means- picking, gathering, collect). Its
It started as an organised activity in Sweden around 2016 and spread to other countries in 2018, following increased concern about plastic pollution. As a workout, it provides variation in body movements by adding bending, squatting and stretching to the main action of running, hiking, or walking
'Plogging' is Sweden's new eco-friendly fitness trend that's going global
Picking up litter while jogging in groups — known as "plogging" — has become a popular pastime in Sweden.
One among many lifestyle fads to come out of the Nordics, plogging is catching on in other countries.
According to a fitness app, plogging is a more effective form of exercise than jogging.
Plogging essentially combines jogging with picking up trash, while turning it all into a social event. The phenomenon was born in Sweden in 2016, when groups started to form around the activity.
"I run a lot and I love to spend time in nature. When I find litter out in the woods or in the archipelago it makes me sad and a bit angry," Swedish plogger Maja Tesch told The Washington Post.
The word plogging fuses "plocka" and "jogga," meaning "picking (up)" and "jogging" in Swedish. Read more @Business Insider
Plogging: the fitness craze that's sweeping the streets. It's time to embrace the Scandinavian trend for picking up litter while jogging – even if the word 'plogging' is a bit rubbish. Read more @Guardian
https://www.instagram.com/p/BXDDazJFk13/?utm_source=ig_web_copy_link
Bangalore-based digital entrepreneur Jacob Cherian took initiative and created events for Plogging: Read more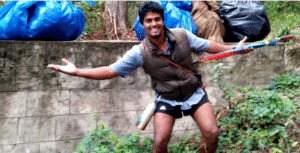 PLOGGING TO PLEKKING
"The idea is not new to India. Going one step ahead, the company Indiahikes has been cleaning mountains while trekking and hiking for many years now. Who knows, it could start a new trend named plekking now!
Lakshmi Selvakumaran, Indiahikes' Green Trails coordinator, says the initiative began five years ago. "It started organically when we realised that with more trekkers coming to the mountains, the trails were getting increasingly polluted. Each trekker is given an eco bag which they tied around the waist. On the trek, the trekkers participate in cleaning the trail too. They pick inorganic waste throughout the trail which is collected at each campsite, segregated and is disposed through the right means," she said. Just last year, they collected over 12,000 kg of waste." Read more
---
We ensure that you are updated with the facts. Please Check4spam before forwarding and believing any doubtful image, message or video. Be cautious, be safe.
---
Find all fact checking articles about news using Nokiye.com
Plogging, Light, Camera, Action, नौटंकी से पहले की गई सफाई की तस्वीर  I Nokiye
---
Post Date: 14 Oct 2019
Post ID: #73983