[SPAM] Medalist Wrestler Nisha Dahiya Shot Dead
Fake news about the murder of Wrestler Nisha Dahiya is falsely being shared on main media
Post Information:
The below post has been circulating on social media
Medalist Wrestler Nisha Dahiya Shot Dead
Verification: The medalist wrestler Nisha Dahiya is alive and is at Gonda for the event
Fake news about the murder of Wrestler Nisha Dahiya is falsely being shared on main media. She is very well alive and shared the video telling her well-being. Confusion was probably created due to the same names. The athlete with the same name (Nisha Dahiya) died was from Halalpur village Sonipat while the photo shared with the report is of athlete Nisha Dahiya from Panipat. Check the link shared below to know the facts:
Wrestling coach Randhir Malik, who traveled with the Indian women team to the Worlds, where Nisha won a bronze, shared some information about the woman who had died with The New Indian Express.
"The girl who died was a newcomer hailing from Halalpur village in Sonipat. She is also Nisha Dahiya but not the one who went to the U23 World championship. She comes from a small village and has just started playing the sport," he said.
Fake rumours of Nisha Dahiya shot dead floating over, Wrestler in a video message confirms. #Wrestler #Wrestling #WrestlingNews #WrestingTV #NishaDahiya #News #FakeNews pic.twitter.com/UGB3pwEc8K

— WrestlingTV 🇮🇳 (@wrestlingtvIND) November 10, 2021
Nisha Dahiya herself posted a video on her Instagram about the fake news. She writes "M bilkul theek hu m senior national khelne gonda aai hui hu."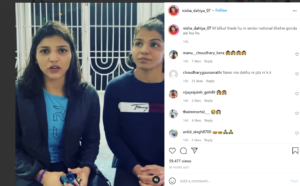 Sakshi Malik, Proud Indian. 2016 Summer Olympics Bronze medalistThird place medal (58 kg)wrestler tweeted about the well-being of Nisha Dahiya with her photo.
Nisha Dahiya who is shot dead and medalist Wrestler Nisha Dahiya are two different people. A wrestler from Panipat is at an event in Gonda as she says in her video of clarification. SP Soipat clarified in a tweet shared by ANI.
Haryana: A wrestler & her brother shot dead in Sonipat, their mother hospitalised after being shot

SP Sonipat Rahul Sharma says, "This Nisha Dahiya (shot dead) & medalist wrestler Nisha Dahiya are 2 different people. The medalist wrestler belongs to Panipat & is at an event now" pic.twitter.com/2lP1Qzt9a8

— ANI (@ANI) November 10, 2021
Along with other main media, NDTV also ran the incorrect report and apologized later:
NDTV earlier this evening ran an incorrect report on wrestler #NishaDahiya. We apologize profusely to her and to our audience for the error.

Please read this story for the correct and latest information on her:https://t.co/EvwPmp050E pic.twitter.com/hup78FxJYi

— NDTV (@ndtv) November 10, 2021
She is alive 🙏🏻 #nishadhaiya #fakenwes pic.twitter.com/6ohMK1bWxG

— Sakshee Malikkh (@SakshiMalik) November 10, 2021
PM Modi congratulated the winners of the U23 World Wrestling Championship 2021 which includes Nisha Dahiya's name.
https://twitter.com/i/status/1458428047044931591
We ensure that you are updated with the facts. Please Check4spam before you believe and forward any doubtful image, message, or video. Be cautious, be safe.
---
Find all fact-checking articles about news using Nokiye.com
Medalist Wrestler Nisha Dahiya Shot Dead I Nokiye
---
Post Date: 11 Nov 2021
Post ID: #79382