[SPAM] Lord Shri Ram Image On Rs 500 Currency Note In India
A photo of a five hundred rupee note is circulated on social media with claims that RBI has introduced a new five hundred rupee note with Lord Rama's image on it
Post Information:
The below post has been circulating on social media
Lord Shri Ram Image On Rs 500 Currency Note In India
Verification: No new ₹500 notes are introdused with Lord Ram's image by RBI
A photo of a five hundred rupee note is circulated on social media with claims that RBI has introduced a new five hundred rupee note with Lord Rama's image on it, The claim is "Photo of Lord Shri Ram Chandra in India's new five hundred rupees note. Hail Lord Rama." The post is shared widely on Facebook and can be seen here, here.
In fact, there was no notification about the introduction of a new ₹500 note with Lord Ram's picture, check the FAQ section on the RBI website clearly stating that the 'Mahatma Gandhi (New) Series' was the latest edition of banknotes, which were introduced in 2016 after the demonetization of old ₹500 and ₹1,000 notes. Information provided at the Website is shared below. Check the screenshot from the link:
iv. Mahatma Gandhi (New) Series (MGNS) – Nov 2016

The Mahatma Gandhi (New) Series, introduced in the year 2016, highlights the cultural heritage and scientific achievements of the country. The banknotes in the series are more wallet friendly, being of reduced dimensions and hence expected to incur less wear and tear. For the first time, designs for banknotes has been indigenously developed on themes reflecting the diverse history, culture and ethos of the country as also its scientific achievements. The colour scheme is sharp and vivid to make the banknotes distinctive.

The first banknote from the new series was introduced on November 8, 2016 and is a new denomination, ₹2000-with the theme of Mangalyaan. Subsequently, banknotes in this series in denomination of ₹500, ₹200, ₹100, ₹50, ₹20 and ₹10 have also been introduced.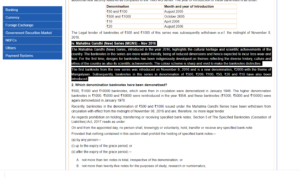 Specimen of the new 500 Rupee Note can be seen here and know your bank note here. Check the screenshot from the same link: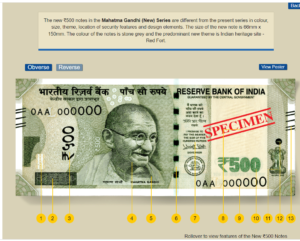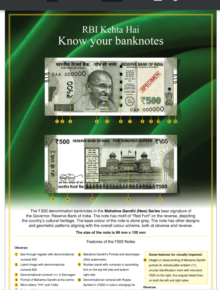 Photo of Lord Shri Ram Chandra is not in India's new five hundred rupees note.
We ensure that you are updated with the facts. Please Check4spam before you believe and forward any doubtful image, message, or video. Be cautious, be safe.
---
Find all fact-checking articles about news using Nokiye.com
Lord Shri Ram Image On Rs 500 Currency Note In India I Nokiye
---
Post Date: 01 June 2022
Post ID: #80275