[SPAM] Night Stay Of Indian Soldiers At Siachen Glacier
This post is circulating on Instagram with misleading claims about "Night Stay Of Indian Soldiers At Siachen Glacier". Please find more details in this article.
Post Information:
Below post has been circulating on social media.
https://www.instagram.com/p/BrMO084AOZ8/

— Kirron Kher (@KirronKherBJP) December 17, 2017

https://twitter.com/ShraddhaKapoor/status/942429929895092224
Verification: These are not Indian Soldiers at Siachen Glacier
Instagram account "isupport_india" shared this post on 10 Dec 2018. It was earlier shared by Bollywood actresses Shraddha Kapoor and Kirron Kher in 2017 on twitter. Image is on round every now and then. Though it is not from India. Images are of Russian Soldiers. SMHoaxslayer debunked this fake. Alt News also came up with facts about the viral image in 2017. Still it was being shared in 2018 on instagram.
The same images were also viral as "Sleeping Ukrainian Soldiers Covered with Snow": Read more
The images were shared in 2013. We are sharing the link where you can see these images and the screenshort below: Read more

Read an article about the increasing temperature in Siachen published on NDTV : As Temperature Goes Up, So Does The Risk For Soldiers At Siachen
The temperature mentioned in viral image is shown -50 degree celsius, where as you can see in the above link it was -40 degree celsius in 2012 and is being increasing thereafter in subsequent years. Read more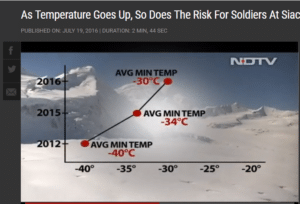 We ensure that you are updated with the facts. Please Check4spam before forwarding and believing any doubtful image, message or video. Be cautious, be safe.
---
Find all fact checking articles about news using  Nokiye.com
Night Stay Of Indian Soldiers At Siachen Glacier | Nokiye
---
Post Date: 17 April 2019
Post ID: #72205