[SPAM] Indian Army Tried To Kidnap A Sikh Girl

This is a fake post circulating with wrong claims about Indian army trying to kidnap a Sikh girl. Please read more about it in the verification section of this article.
Post Information:
Below post has been circulating on social media.

Verification: Indian Army officers did not try to kidnap a Sikh girl
The post was shared with fake claims by Yousefzai. The account is suspended. Any Person with wrong purpose can take the tweet from other's accounts and can share it with fake claims. If you come across such posts or your tweet is being used for wrong purpose, immediately complain about it. Please be very careful while you believe such posts. This video is a miss match of real video and fake claim.
The incident is from Chinchwad area of Pune and is shared with false claim for malicious purpose: Read more
Check the screenshots shared below to know the truth. Hatinder Singh who tweeted the video, complained to twitter about the handle being picked from his account and is used as anti Indian content. Read more @Pune Mirror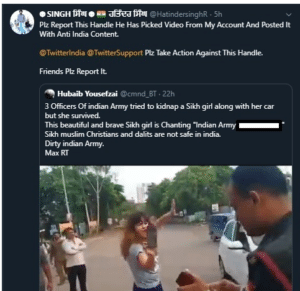 #WATCH A driver hits her car against a parked car repeatedly, in Pune's Ramnagar area. Additional CP, Pimpri-Chinchawad says, "A woman driver damaged three cars with her car in Ramnagar area; Case registered, further investigation underway." (20th August) pic.twitter.com/QE1kLrWsJF

— ANI (@ANI) August 21, 2019
After a road accient, somewhere in #Pune👇

Apparantly she hit the other vehicle from behing. Wonder why she is hurling mother-abuses on Police/Army?😇

Misusing the feminine powers? pic.twitter.com/mnnmJ9Yvgo

— #Intolerant भारतीय (@goyalsanjeev) August 24, 2019
How much drunk one has to be to be doing this? She isn't only drunk on alcohol, she's drunk on power too as one person in video is saying she's famous for this. Poor chap whose car she destroyed like it was a toy, didn't know her. She's Swati Mishra from Pune @PuneCityTraffic pic.twitter.com/JHZCuxuc3A

— Deepika Narayan Bhardwaj (@DeepikaBhardwaj) August 24, 2019
---
We ensure that you are updated with the facts. Please Check4spam before forwarding and believing any doubtful image, message or video. Be cautious, be safe.
---
Find all fact checking articles about news using Nokiye.com
Indian Army Tried To Kidnap A Sikh Girl  I Nokiye
---
Post Date: 5 Sep 2019
Post ID: #73668