[SPAM] Gram Panchayat Bans Muslims Over COVID-19 In Ramnagar District Karnataka
A video is found in circulation claiming the grama panchayat has banned Muslims over Corona Virus scare
Post Information:
Below post has been circulating on social media.
Announcement in Ramnagar district: Muslims are not allowed in the village. No one is allowed to work for them. If you do, pay a fine of Rs 500,1000.
https://twitter.com/desi_antifa/status/1247887218472972288
Verification: Grama Panchayat has no involvement in the announcement of banning Muslims in Ramnagar district of Karnataka 
A video is found in circulation claiming the Gram Panchayat has banned Muslims over Corona Virus scare. In Bengaluru's Ramanagara district, a video was shared on social media showing an announcement being made by a man in Ankanahalli village saying that Muslims are not allowed to enter the village and no villager should work for Muslims or else they will be fined for Rs 500- Rs1,000. It's mischief involving a Grama Panchayat member and two others. Grama Panchayat has no involvement in this and has no role in this incident. A police case has been registered against the three involved. Ramanagara Police have registered a case against three people, including the Gram Panchayat Chief Mahesh, the person making the announcement, Ramaiah and Ramesh, who were involved in sharing the video on WhatsApp and social media. Check the link below to know the facts:
It is a minor mischief involving a GP member & two other people. The Gram Panchayats itself has no role.

A case has been booked against three persons. Generalisations about communal tensions are not really warranted.

CEO ZP Ramnagara @Ikrum_shariff to take necessary action. https://t.co/FjIsoDkmCn

— ಎಲ್ ಕೆ ಅತೀಕ್ L K Atheeq (@lkatheeq) April 9, 2020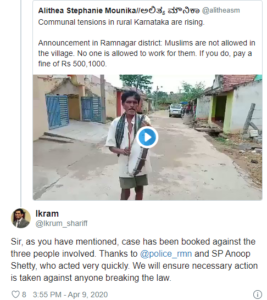 We ensure that you are updated with the facts. Please Check4spam before you believe and forward any doubtful image, message or video. Be cautious, be safe.
---
Find all fact-checking articles about news using Nokiye.com
Gram Panchayat Bans Muslims In Ramnagar District Karnataka I Nokiye
---
Post Date: 10 Apr 2020
Post ID: #76028