[SPAM] The football Jersey Gifted To PM Modi By FIFA President Had "Modi 420" Printed On It
This post that claims that the Jersey Gifted To PM Modi By FIFA President Has "Modi 420" Printed On It  circulating on social media is fake. Please find more details at the verification section of this article.
Post Information:
Below post has been circulating on social media.
जिसने यह टी शर्ट बनाया और नंबर चूज किया है उसे 121 तोपों की बेहतरीन सलामी !!

सही टी शर्ट दिया है। #Modi420 🤪
जिंदगी न्याय कर ही देती है। सही टी शर्ट दिया है। #Modi420 🤪
Verification: The football jersey gifted to PM Modi by FIFA president did not have "Modi 420" written on it.

When the news is about our PM, we are very curious to share it with others. Excitement about the news becomes so high that we ignore our senses to know the truth behind the news or post we get from various fake origins. This is also such kind of post that we came across on social media and is spreading like fire. This is photoshopped. The real image has been miss captioned. The actual print on jersey is "Modi G20" and not "Modi 420".
Lets not believe such hoax immediately, rather go through the internet and find the facts about it. For your information the image is taken from G-20 summit held in Argentina and the jersey had G20 printed on it. PM Modi tweeted on his official account showing the blue jersey that had his name and G20 printed on it and thanked Fifa president Gianni Infantino.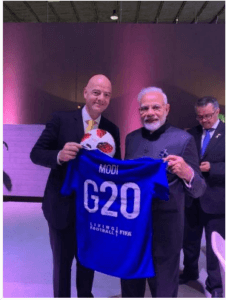 Know more about G 2o Summit: India Today
India had hosted the U-17 FIFA World Cup in October last year between 6 and 28 October 2017
India will host G20 summit in 2022, a year when the country will  complete 75 years of independence Raed more: Business Standard
Check the video below:
Know more about G 20 Summit:
We ensure that you are updated with the facts. Please Check4spam before forwarding and believing any doubtful image, message or video. Be cautious, be safe.
---
Find all fact checking articles about news using Nokiye.com
Text On PM Modi Football Jersey | Nokiye.com
---
Post Date: 17 Dec 2018
Post ID: #70472
Thank You for visiting Check4Spam. Please write a comment at this article if you like our service.