[SPAM] Chechen Muslims Protest Against France
Celebrations of Prophet Mohammad's birthday from Yemenis capital Sanaa is shared on social media with false claims of Chechen Muslims protest against France
Post Information:
Below post has been circulating on social media.
Chechen Muslims Protest Against France

https://twitter.com/007AliSohrab/status/1320746822848053248?ref_src=twsrc%5Etfw%7Ctwcamp%5Etweetembed%7Ctwterm%5E1320746822848053248%7Ctwgr%5Eshare_3&ref_url=https%3A%2F%2Fpublish.twitter.com%2F%3Fquery%3Dhttps3A2F2Ftwitter.com2F007AliSohrab2Fstatus2F1320746822848053248widget%3DTweet
Verification: Video from Yemenis Capital Sanaa is shared with false claims of Chechen Muslims protest against France 
The video of celebrating Prophet  Mohammad's birthday from Yemenis capital Sanaa is shared with false claims "Chechen Muslims protest against France And expressing devotion to the Prophet (peace and blessings of Allaah be upon him) #boycottfrance #FranceBoycott #ProphetMuhammadSAW" on social media.
In fact, while searching the screenshot from the video we found this same video on the Facebook account of Muhammad Shabbir Bukhari, Muslim Story with the caption "The whole world trembles hearing this voice celebrating the birth of the Prophet Muhammad SAW ", District Santri on 20th Nov 2019 with the caption "Sholuuu'ala the prophet …. . . . . #sholawat #syekhermania #sikhh #gusdurian #santri #santrionline #santriwan #santriwati #kaossantri #kaoskopikeren #pesantren". The video from Yemen is shared from France and Chechnya with false claims.
Check the screenshot taken from the real video of the celebration of Prophet Mohammad's birthday from Yemen, The date of the video posted is10 November 2019. You can see the same images as seen in viral posts shared with false claims: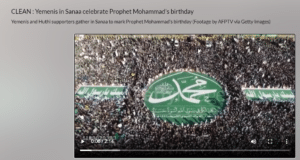 Read more @Boomlive
We ensure that you are updated with the facts. Please Check4spam before you believe and forward any doubtful image, message or video. Be cautious, be safe.
---
Find all fact-checking articles about news using Nokiye.com
Chechen Muslims Protest Against France I Nokiye
---
Post Date:  29 Oct 2020
Post ID: #77884